Help to reopen your business safely
When can non-essential shops, hospitality and tourism reopen following 2021 lockdown?
---
From Step 4 (July 19th), legal restrictions can be lifted, all businesses can open and the government is no longer instructing people to work from home. To support businesses through this next phase, the 'Working Safely' guidance will continue to provide advice on sensible precautions employers can take to manage risk and support their staff and customers.
Businesses still have a legal duty to manage risks to those affected by their business. The way to do this is to carry out a Health and Safety risk assessment, including the risk of COVID-19, and to take reasonable steps to mitigate the risks you identify of the virus spreading. See the link below for information on how to conduct a COVID-19 risk assessment.
https://www.hse.gov.uk/simple-health-safety/risk/index.htm
---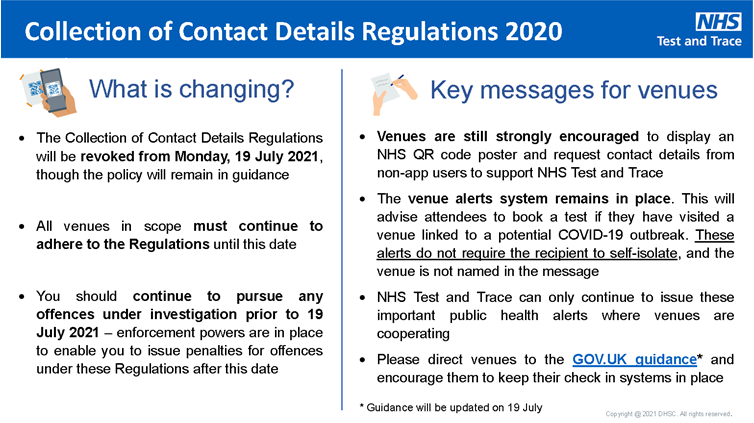 ---
You should use the updated guidance below to consider the risk within your own premises and decide which mitigations are appropriate to adopt. In the long term, the Government expect that businesses will need to take fewer precautions to manage the risk of COVID-19. The Government will continue to keep our guidance under review and will remove advice once it's safe to do so.
---
For more information about working safely during COVID-19 please visit the below links.
Hotel and Other Guest Accommodation
https://www.gov.uk/guidance/working-safely-during-covid-19/hotels-and-guest-accommodation
Events And Attractions
https://www.gov.uk/guidance/working-safely-during-covid-19/events-and-attractions
Restaurants, Pubs, Bars and Nightclubs
https://www.gov.uk/guidance/working-safely-during-covid-19/restaurants-pubs-bars-nightclubs-and-takeaway-services
---
The 'we're good to go scheme'
The good to go scheme is an industry standard accreditation which recognises businesses primarily within the tourism and hospitality sector as being COVID-19 secure. With the easing of restrictions on July 19th, this accreditation will show that your business is operating within the recommended government guidelines and public health guidance. Click the link below to start your application.
https://goodtogo.visitbritain.com/your-business-good-to-go-england
---
How will the council support the high street?
We've been allocated £73,686 from the European Regional Development Fund to create a safe shopping environment for shoppers and businesses in our town centres. For more information about the fund and its criteria, see GOV.UK - Reopening High Streets Safely Fund guidance.
Our staff worked hard to ensure our larger town centres were safe to use while meeting the governments guidelines following the two previous lockdowns. We will continue to engage with Town Councils and established town centre business groups on proposals for promoting high streets and supplementing the safety measures.
Initial emergency phase was implemented in 2020.
Changes you can expect to see around the larger towns:
Signage to maintain social distancing - throughout our town centres, car parks and open spaces
Changes to some paths and walkways - you may see barriers indicating one-way systems and no entry points
Signs providing advice at gathering points - such as at bus stops/bus station/seating areas/bicycle parking and ticket vend machines
Space will be created on footpaths to allow queuing outside shops - shops will have their own markings and instructions for their customers that you'll need to follow
There will be circulatory systems in our three largest towns:
In Tiverton, the Pannier Market area will have separate entry and exit points on all sides; next to Boots pedestrians are asked to keep left, and; at Westexe North a one-way system will be in operation to and from the shops
In Cullompton, from Station Road (Forge Way) car park, a one-way system will be in place to the shop beside Clarks Court, returning via Higher Mill Lane
In Crediton, from the High Street (St Saviours Way) car park, pedestrians are asked to keep left in Silbury Place enroute to the shops, and on their return
---
Plan for re-opening:
When I am allowed to re-open, what help is there for my business?
The Better Business for All (BBfA) partnership has used their knowledge and expertise to bring together resources from trusted organisations to help guide you through the main considerations for restarting your business safely. They've developed a toolkit, which is also available on the Heart of the South West Growth Hub Growth Hub website, along with useful documents including a risk assessment template and action plan, business checklists and useful guides to help you.
The toolkit has been well received by the business community with many positive comments from business leaders. What's more, the Federation of Small Businesses have said that it's the best they've seen, so do take a look at it.
---
What guidance is there?
Once the latest guidance is released we will publish the links here.
Showing your business is COVID-19 secure
The Government has also produced a number of posters and social media images to show your business is COVID-19 secure. You can download these and display them in your windows to help build customer confidence.
---
What additional help is available?
Lots of useful resources are available for various workplaces. The Department of Business, Energy and Industrial Strategy (BEIS) has produced a number of webinars on how to make a workplace Coronavirus secure.
Financial support for businesses during national restrictions
There are a number of different grants available to Mid Devon businesses. For more information visit https://www.middevon.gov.uk/residents/national-lockdown-support-for-communities-and-businesses/business-support-across-mid-devon/financial-support-for-businesses-during-national-restrictions/
Other financial support:
- Business rate relief: https://www.middevon.gov.uk/business/business-rates/rate-reliefs/small-business-rate-relief/
- Covid-19 hardship fund - https://www.middevon.gov.uk/do-it-online/covid19-support/covid19-local-support-fund/
- Government business support - https://www.gov.uk/government/collections/financial-support-for-businesses-during-coronavirus-covid-19
- Non-GOV business support: www.gov.uk/guidance/coronavirus-support-for-business-from-outside-government?priority-taxon=09944b84-02ba-4742-a696-9e562fc9b29d
Other business news
All Government guidance, information and announcements can be found at GOV.UK - Coronavirus (COVID‑19).
Of particular note, is a page with guidance for employees, employers and businesses which is being updated regularly with the latest advice. The BEIS issues regular e-bulletins with business updates relating to the Coronavirus and other business news. See their website for further details.
If your business is experiencing any issues relating to COVID-19 which aren't being addressed through other support channels, please contact our Economic Development team in confidence to help shape future activities responding to the outbreak.
---