NHS QR code posters now required by customer-facing businesses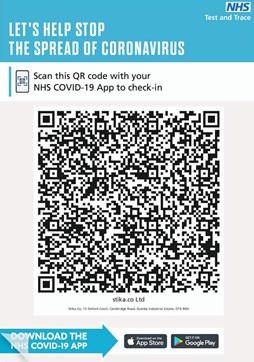 If you haven't already, by law, you now have to display an NHS QR code poster if you run a hospitality, tourism or leisure business, or; a close contact service. This is to enable customers to check-in upon entry using their smartphones and the new NHS COVID-19 app.
Customised posters, specific to business and venue premises, can be downloaded and printed for display via the Government's website.
Since the new app was launched on 24 September, instead of disclosing their contact details via a visitor's book, customers have been checking-in digitally, enabling NHS Test and Trace to notify users in the event of a local outbreak.
Services included in the new legal requirements are: 
Hospitality, including pubs, bars, restaurants and cafés
Tourism and leisure, including gyms, swimming pools, hotels, museums, cinemas, zoos and theme parks 
Close contact services, including hairdressers, town halls and civic centres (for events), libraries and children's centres
If you already use your own QR system, it's important that you've now switched to using the NHS Test and Trace system.
For more information about the NHS COVID-19 app, visit covid19.nhs.uk.
Related websites
Contact us