Charges for 2015/16
Breakdown of charge
The full amount of Council Tax you pay consists of five individual charges known as 'precepts' from five separate authorities. Every £1 of Council Tax you pay is split in the following way for services: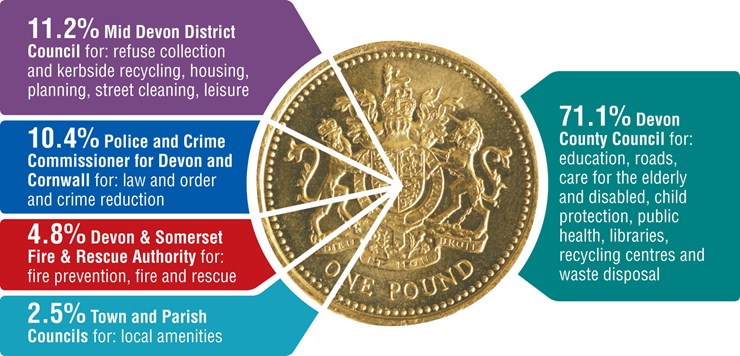 The figure for Town and Parish Councils is an average. What you pay will depend on your own Town or Parish Council's precept. The following table shows the total amount charged by each authority and the average cost to a Band D Council Tax payer:
Precept

Average Band 'D' charge

Increase

Devon County Council                        

£1161.27

1.99%

Devon & Cornwall Police Crime Commissioner

£169.47

1.99%

Devon & Somerset Fire & Rescue              

£78.42

1.99%

Mid Devon District Council                         

£182.15

Nil

Parish Council's (Average)                   

£41.66

10.12%

Total

£1632.97
We have frozen our share of your Council Tax for a fifth successive year, at £182.15 for a Band D property. All other band charges are calculated as a percentage of the Band D charge:
| | | | | | | |
| --- | --- | --- | --- | --- | --- | --- |
| A |     | 6/9ths (two-thirds of the full charge) |         | E |     | 11/9ths |
| B |   | 7/9ths |   | F |   | 13/9ths |
| C |   | 8/9ths |   | G |   | 15/9ths |
| D |   | 9/9ths (the full charge) |   | H |   | 18/9ths (twice the full charge) |
How does this compare to last year?
The graph below shows how our gross spending plans for 2015/16 compare to 2014/15: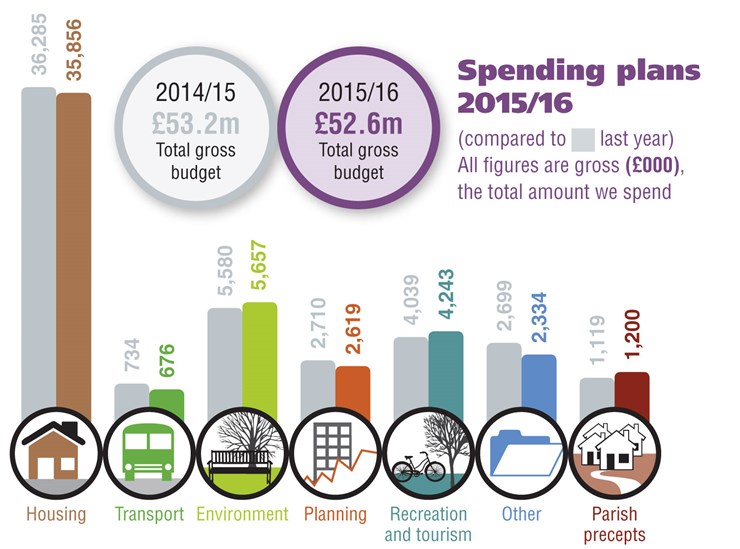 Services
The amount of Council Tax we receive amounts to 55% of the cost for the services we provide in Mid Devon. The balance is paid for by Government Grants, Parish Precepts, fees and charges for services we provide and any collection surplus available from last year's Council Tax. The amount of grant we receive from Central Government is based on our needs, resources and the population of the area.
We will continue to deliver a wide range of services for our residents against a continuing backdrop of central government cuts to our funding, which amount to over £2.5 million since 2010. During 2015/16 we will continue to stimulate more economic activity across the District, including the provision of extra homes – both private and social and implement changes to the waste collection service in order to increase recycling rates and reduce operational costs by around £500k per year.
Town and Parish Council precepts
Below is a list of this year's charges. To find out how much you will pay, find the Parish that you live in the left column and the band that your property is in along the top row. The amount shown is the full charge for the financial year 2015/2016 for all five authorities added together.
| | | | | | | | | |
| --- | --- | --- | --- | --- | --- | --- | --- | --- |
|   | A | B | C | D | E | F | G | H |
| Bampton | 1,093.13 | 1,275.32 | 1,457.51 | 1,639.70 | 2,004.08 | 2,368.46 | 2,732.83 | 3,279.40 |
| Bickleigh | 1,081.75 | 1,262.04 | 1,442.34 | 1,622.63 | 1,983.22 | 2,343.80 | 2,704.38 | 3,245.26 |
| Bow | 1,072.44 | 1,251.18 | 1,429.93 | 1,608.67 | 1,966.16 | 2,323.64 | 2,681.11 | 3,217.34 |
| Bradninch | 1,084.22 | 1,264.93 | 1,445.64 | 1,626.34 | 1,987.75 | 2,349.16 | 2,710.56 | 3,252.68 |
| Brushford | 1,060.87 | 1,237.68 | 1,414.50 | 1,591.31 | 1,944.94 | 2,298.56 | 2,652.18 | 3,182.62 |
| Burlescombe | 1,079.04 | 1,258.87 | 1,438.72 | 1,618.56 | 1,978.25 | 2,337.92 | 2,697.60 | 3,237.12 |
| Butterleigh | 1,061.74 | 1,238.70 | 1,415.66 | 1,592.62 | 1,946.54 | 2,300.45 | 2,654.36 | 3,185.24 |
| Cadbury | 1,065.42 | 1,242.99 | 1,420.57 | 1,598.14 | 1,953.29 | 2,308.43 | 2,663.56 | 3,196.28 |
| Cadeleigh | 1,072.42 | 1,251.16 | 1,429.90 | 1,608.64 | 1,966.12 | 2,323.59 | 2,681.06 | 3,217.28 |
| Chawleigh | 1,092.90 | 1,275.04 | 1,457.20 | 1,639.35 | 2,003.66 | 2,367.95 | 2,732.25 | 3,278.70 |
| Cheriton Bishop | 1,080.97 | 1,261.13 | 1,441.30 | 1,621.46 | 1,981.79 | 2,342.11 | 2,702.43 | 3,242.92 |
| Cheriton Fitzpaine | 1,082.06 | 1,262.40 | 1,442.75 | 1,623.09 | 1,983.78 | 2,344.46 | 2,705.15 | 3,246.18 |
| Clannaborough | 1,060.87 | 1,237.68 | 1,414.50 | 1,591.31 | 1,944.94 | 2,298.56 | 2,652.18 | 3,182.62 |
| Clayhanger (B Gate) | 1,067.44 | 1,245.35 | 1,423.26 | 1,601.17 | 1,956.99 | 2,312.80 | 2,668.61 | 3,202.34 |
| Clayhidon | 1,083.18 | 1,263.71 | 1,444.25 | 1,624.78 | 1,985.85 | 2,346.91 | 2,707.96 | 3,249.56 |
| Coldridge | 1,077.28 | 1,256.82 | 1,436.38 | 1,615.92 | 1,975.02 | 2,334.11 | 2,693.20 | 3,231.84 |
| Colebrooke | 1,085.25 | 1,266.12 | 1,447.01 | 1,627.88 | 1,989.64 | 2,351.38 | 2,713.13 | 3,255.76 |
| Copplestone | 1,072.43 | 1,251.17 | 1,429.91 | 1,608.65 | 1,966.13 | 2,323.61 | 2,681.08 | 3,217.30 |
| Crediton | 1,101.59 | 1,285.19 | 1,468.79 | 1,652.39 | 2,019.59 | 2,386.79 | 2,753.98 | 3,304.78 |
| Crediton Hamlets | 1,067.10 | 1,244.94 | 1,422.80 | 1,600.65 | 1,956.36 | 2,312.05 | 2,667.75 | 3,201.30 |
| Cruwys Morchard | 1,069.16 | 1,247.35 | 1,425.55 | 1,603.74 | 1,960.13 | 2,316.51 | 2,672.90 | 3,207.48 |
| Cullompton | 1,119.27 | 1,305.81 | 1,492.37 | 1,678.91 | 2,052.01 | 2,425.09 | 2,798.18 | 3,357.82 |
| Culmstock | 1,089.51 | 1,271.09 | 1,452.69 | 1,634.27 | 1,997.45 | 2,360.61 | 2,723.78 | 3,268.54 |
| Down St Mary | 1,071.35 | 1,249.91 | 1,428.47 | 1,607.03 | 1,964.15 | 2,321.27 | 2,678.38 | 3,214.06 |
| Eggesford | 1,060.87 | 1,237.68 | 1,414.50 | 1,591.31 | 1,944.94 | 2,298.56 | 2,652.18 | 3,182.62 |
| Halberton | 1,073.32 | 1,252.20 | 1,431.10 | 1,609.98 | 1,967.76 | 2,325.53 | 2,683.30 | 3,219.96 |
| Hemyock | 1,111.97 | 1,297.30 | 1,482.63 | 1,667.96 | 2,038.62 | 2,409.28 | 2,779.93 | 3,335.92 |
| Hittisleigh | 1,079.38 | 1,259.28 | 1,439.18 | 1,619.08 | 1,978.88 | 2,338.67 | 2,698.46 | 3,238.16 |
| Hockworthy (B Gate) | 1,064.91 | 1,242.39 | 1,419.89 | 1,597.37 | 1,952.35 | 2,307.31 | 2,662.28 | 3,194.74 |
| Holcombe Rogus | 1,080.43 | 1,260.50 | 1,440.58 | 1,620.65 | 1,980.80 | 2,340.94 | 2,701.08 | 3,241.30 |
| Huntsham (B Gate) | 1,066.18 | 1,243.87 | 1,421.58 | 1,599.27 | 1,954.67 | 2,310.06 | 2,665.45 | 3,198.54 |
| Kennerleigh | 1,060.87 | 1,237.68 | 1,414.50 | 1,591.31 | 1,944.94 | 2,298.56 | 2,652.18 | 3,182.62 |
| Kentisbeare | 1,090.32 | 1,272.03 | 1,453.76 | 1,635.48 | 1,998.93 | 2,362.36 | 2,725.80 | 3,270.96 |
| Lapford | 1,076.78 | 1,256.25 | 1,435.72 | 1,615.18 | 1,974.11 | 2,333.04 | 2,691.96 | 3,230.36 |
| Loxbeare | 1,060.87 | 1,237.68 | 1,414.50 | 1,591.31 | 1,944.94 | 2,298.56 | 2,652.18 | 3,182.62 |
| Morchard Bishop | 1,071.48 | 1,250.05 | 1,428.64 | 1,607.22 | 1,964.39 | 2,321.54 | 2,678.70 | 3,214.44 |
| Morebath | 1,087.60 | 1,268.87 | 1,450.14 | 1,631.41 | 1,993.95 | 2,356.48 | 2,719.01 | 3,262.82 |
| Newton St Cyres | 1,083.09 | 1,263.60 | 1,444.13 | 1,624.64 | 1,985.68 | 2,346.70 | 2,707.73 | 3,249.28 |
| Nymet Rowland | 1,070.53 | 1,248.95 | 1,427.38 | 1,605.80 | 1,962.65 | 2,319.49 | 2,676.33 | 3,211.60 |
| Oakford | 1,073.00 | 1,251.83 | 1,430.67 | 1,609.50 | 1,967.17 | 2,324.83 | 2,682.50 | 3,219.00 |
| Poughill | 1,078.92 | 1,258.74 | 1,438.57 | 1,618.39 | 1,978.04 | 2,337.68 | 2,697.31 | 3,236.78 |
| Puddington | 1,067.77 | 1,245.73 | 1,423.70 | 1,601.66 | 1,957.59 | 2,313.51 | 2,669.43 | 3,203.32 |
| Sampford Peverell | 1,072.04 | 1,250.71 | 1,429.39 | 1,608.06 | 1,965.41 | 2,322.75 | 2,680.10 | 3,216.12 |
| Sandford | 1,075.18 | 1,254.38 | 1,433.58 | 1,612.78 | 1,971.18 | 2,329.57 | 2,687.96 | 3,225.56 |
| Shobrooke | 1,075.96 | 1,255.29 | 1,434.62 | 1,613.95 | 1,972.61 | 2,331.26 | 2,689.91 | 3,227.90 |
| Silverton | 1,077.32 | 1,256.87 | 1,436.43 | 1,615.98 | 1,975.09 | 2,334.19 | 2,693.30 | 3,231.96 |
| Stockleigh English | 1,060.87 | 1,237.68 | 1,414.50 | 1,591.31 | 1,944.94 | 2,298.56 | 2,652.18 | 3,182.62 |
| Stockleigh Pomeroy | 1,060.87 | 1,237.68 | 1,414.50 | 1,591.31 | 1,944.94 | 2,298.56 | 2,652.18 | 3,182.62 |
| Stoodleigh | 1,078.54 | 1,258.29 | 1,438.06 | 1,617.81 | 1,977.33 | 2,336.84 | 2,696.35 | 3,235.62 |
| Templeton | 1,078.30 | 1,258.01 | 1,437.74 | 1,617.45 | 1,976.89 | 2,336.32 | 2,695.75 | 3,234.90 |
| Thelbridge | 1,067.74 | 1,245.70 | 1,423.66 | 1,601.62 | 1,957.54 | 2,313.45 | 2,669.36 | 3,203.24 |
| Thorverton | 1,084.54 | 1,265.30 | 1,446.06 | 1,626.82 | 1,988.34 | 2,349.85 | 2,711.36 | 3,253.64 |
| Tiverton | 1,085.40 | 1,266.30 | 1,447.21 | 1,628.11 | 1,989.92 | 2,351.72 | 2,713.51 | 3,256.22 |
| Uffculme | 1,104.92 | 1,289.07 | 1,473.23 | 1,657.38 | 2,025.69 | 2,393.99 | 2,762.30 | 3,314.76 |
| Uplowman | 1,073.45 | 1,252.36 | 1,431.27 | 1,610.18 | 1,968.00 | 2,325.82 | 2,683.63 | 3,220.36 |
| Upton Hellions | 1,060.87 | 1,237.68 | 1,414.50 | 1,591.31 | 1,944.94 | 2,298.56 | 2,652.18 | 3,182.62 |
| Washfield | 1,066.90 | 1,244.72 | 1,422.54 | 1,600.36 | 1,956.00 | 2,311.63 | 2,667.26 | 3,200.72 |
| Washford Pyne | 1,068.44 | 1,246.51 | 1,424.59 | 1,602.66 | 1,958.81 | 2,314.95 | 2,671.10 | 3,205.32 |
| Wembworthy | 1,079.62 | 1,259.55 | 1,439.50 | 1,619.43 | 1,979.31 | 2,339.18 | 2,699.05 | 3,238.86 |
| Willand | 1,084.24 | 1,264.95 | 1,445.66 | 1,626.37 | 1,987.79 | 2,349.20 | 2,710.61 | 3,252.74 |
| Woolfardisworthy | 1,064.36 | 1,241.76 | 1,419.16 | 1,596.55 | 1,951.34 | 2,306.13 | 2,660.91 | 3,193.10 |
| Zeal Monachorum | 1,077.44 | 1,257.02 | 1,436.60 | 1,616.17 | 1,975.32 | 2,334.47 | 2,693.61 | 3,232.34 |