Charges for 2019/20
How much will I pay?
What you'll pay for 2019/20 depends on the 'banding' of your property and your own Town or Parish Council's precept. To find out exactly how much you'll pay, see Council Tax Charge per Town or Parish below.
How is my council tax spent on services in Devon?
The full amount of council tax paid consists of five individual charges from five separate authorities known as 'precepts':
Precept

Avg. band 'D' charge

Increase

Devon County Council

(Includes 1% for Adult Social Care)

£1,384.29

3.99%

Devon & Cornwall Police Crime Commissioner

£212.28

12.75%

Devon & Somerset Fire & Rescue

£86.52

2.99%

Mid Devon District Council

£203.84

2.99%

Town and Parish Councils

(Average)

£59.97

10.28%

Total

£1,946.90

4.91%
Every £1 of council tax you pay is split in the following way for services: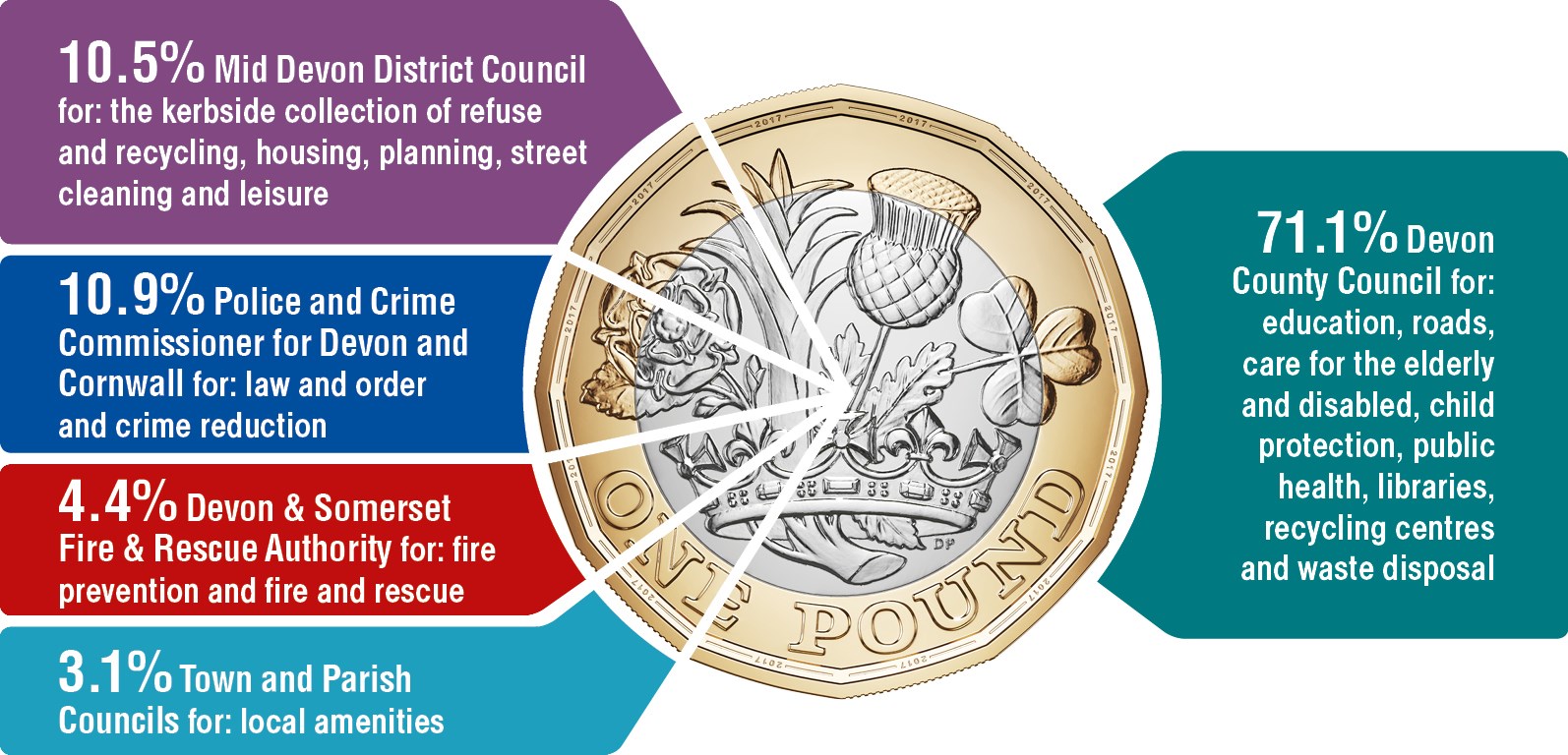 The figure for Town and Parish Councils is an average.
How is it spent in Mid Devon and how does this compare to last year?
The following chart shows how our gross spending plans for 2019/20 compare to 2018/19:
Although we've increased our share of council tax by 2.998% for 2019/20, our overall proportion has decreased from 10.7% in 2018/19 to 10.5% for 2019/20. A Band D property will be required to pay £203.84.
The proportion of charges are calculated in relation to a Band 'D' property as follows:
| | | | |
| --- | --- | --- | --- |
| A | 6/9ths (two-thirds of the full charge) | E | 11/9ths |
| B | 7/9ths | F | 13/9ths |
| C | 8/9ths | G | 15/9ths |
| D | 9/9ths (the full charge) | H | 18/9ths (twice the full charge) |
In 2019/20, we'll continue to deliver a wide range of high performing services, set against the harsh reality of Central Government's ongoing austerity programme, which has seen the council's core funding grant reduced by circa £4.2m since 2010.
Like many councils, we've had to make some difficult choices in order to produce a balanced budget. By focusing on driving further efficiencies and maximising the use of our large property estate, we've managed to keep service cuts to an absolute minimum.
Moving forward into 2019/20, we're seeing the benefit of:
working in partnership with some of our neighbouring councils;
increased leisure centre membership numbers generated from the major gym and dance studio investments at Exe Valley and Lords Meadow sites, and;
the delivery of the first three housing development sites by our development company, 3 Rivers Development Ltd.
Additionally, we're masterplanning for significant housing growth planned for the Tiverton Eastern Urban Extension, the Northwest Cullompton Urban Extension and the new Culm Garden Village. This will ensure that these new developments deliver well planned, high quality housing that serve as a model example of modern living.
Looking forward, all councils are facing a very uncertain future as Central Government are consulting on making changes to all areas of Local Government funding. This makes current medium-term financial planning very challenging.
Council Tax Charge per Town or Parish
Below is a list of this year's charges. To find out exactly how much you'll pay, check the amount in the row your Town/Parish is in, against your property band. Amounts shown include all five authorities charges added together:
 Parish
A
B
C
D
E
F
G
H
Bampton
£1,308.94
£1,527.09
£1,745.25
£1,963.41
£2,399.73
£2,836.04
£3,272.35
£3,926.82
Bickleigh
£1,276.28
£1,489.00
£1,701.71
£1,914.43
£2,339.86
£2,765.29
£3,190.71
£3,828.86
Bow
£1,272.58
£1,484.68
£1,696.78
£1,908.88
£2,333.08
£2,757.28
£3,181.46
£3,817.76
Bradninch
£1,291.44
£1,506.69
£1,721.93
£1,937.17
£2,367.65
£2,798.14
£3,228.61
£3,874.34
Brushford
£1,257.95
£1,467.61
£1,677.27
£1,886.93
£2,306.25
£2,725.57
£3,144.88
£3,773.86
Burlescombe
£1,281.11
£1,494.63
£1,708.15
£1,921.67
£2,348.71
£2,775.75
£3,202.78
£3,843.34
Butterleigh
£1,261.22
£1,471.43
£1,681.63
£1,891.84
£2,312.25
£2,732.66
£3,153.06
£3,783.68
Cadbury
£1,263.49
£1,474.07
£1,684.66
£1,895.24
£2,316.41
£2,737.57
£3,158.73
£3,790.48
Cadeleigh
£1,257.95
£1,467.61
£1,677.27
£1,886.93
£2,306.25
£2,725.57
£3,144.88
£3,773.86
Chawleigh
£1,291.03
£1,506.20
£1,721.38
£1,936.55
£2,366.90
£2,797.24
£3,227.58
£3,873.10
Cheriton Bishop
£1,289.53
£1,504.45
£1,719.38
£1,934.30
£2,364.15
£2,793.99
£3,223.83
£3,868.60
Cheriton Fitzpaine
£1,282.21
£1,495.91
£1,709.62
£1,923.32
£2,350.73
£2,778.13
£3,205.53
£3,846.64
Clannaborough
£1,257.95
£1,467.61
£1,677.27
£1,886.93
£2,306.25
£2,725.57
£3,144.88
£3,773.86
Clayhanger
(B Gate)
£1,273.24
£1,485.44
£1,697.65
£1,909.86
£2,334.28
£2,758.69
£3,183.10
£3,819.72
Clayhidon
£1,284.47
£1,498.55
£1,712.63
£1,926.71
£2,354.87
£2,783.03
£3,211.18
£3,853.42
Coldridge
£1,284.23
£1,498.27
£1,712.31
£1,926.35
£2,354.43
£2,782.51
£3,210.58
£3,852.70
Colebrooke
£1,300.55
£1,517.31
£1,734.07
£1,950.83
£2,384.35
£2,817.87
£3,251.38
£3,901.66
Copplestone
£1,278.96
£1,492.12
£1,705.28
£1,918.44
£2,344.76
£2,771.08
£3,197.40
£3,836.88
Crediton
£1,319.71
£1,539.66
£1,759.62
£1,979.57
£2,419.48
£2,859.38
£3,299.28
£3,959.14
Crediton Hamlets
£1,270.09
£1,481.77
£1,693.46
£1,905.14
£2,328.51
£2,751.87
£3,175.23
£3,810.28
Cruwys Morchard
£1,272.73
£1,484.85
£1,696.98
£1,909.10
£2,333.35
£2,757.59
£3,181.83
£3,818.20
Cullompton
£1,329.40
£1,550.97
£1,772.54
£1,994.11
£2,437.25
£2,880.39
£3,323.51
£3,988.22
Culmstock
£1,313.08
£1,531.93
£1,750.78
£1,969.63
£2,407.33
£2,845.03
£3,282.71
£3,939.26
Down St Mary
£1,274.98
£1,487.47
£1,699.97
£1,912.47
£2,337.47
£2,762.46
£3,187.45
£3,824.94
Eggesford
£1,257.95
£1,467.61
£1,677.27
£1,886.93
£2,306.25
£2,725.57
£3,144.88
£3,773.86
Halberton
£1,271.74
£1,483.70
£1,695.66
£1,907.62
£2,331.54
£2,755.46
£3,179.36
£3,815.24
Hemyock
£1,322.82
£1,543.30
£1,763.77
£1,984.24
£2,425.18
£2,866.13
£3,307.06
£3,968.48
Hittesleigh
£1,278.87
£1,492.02
£1,705.16
£1,918.31
£2,344.60
£2,770.90
£3,197.18
£3,836.62
Hockworthy
(B Gate)
£1,272.02
£1,484.02
£1,696.03
£1,908.03
£2,332.04
£2,756.05
£3,180.05
£3,816.06
Holcombe Rogus
£1,292.48
£1,507.89
£1,723.31
£1,938.72
£2,369.55
£2,800.38
£3,231.20
£3,877.44
Huntsham
(B Gate)
£1,272.64
£1,484.75
£1,696.86
£1,908.97
£2,333.19
£2,757.41
£3,181.61
£3,817.94
Kennerleigh
£1,259.61
£1,469.55
£1,679.48
£1,889.42
£2,309.29
£2,729.17
£3,149.03
£3,778.84
Kentisbeare
£1,307.94
£1,525.94
£1,743.93
£1,961.92
£2,397.90
£2,833.89
£3,269.86
£3,923.84
Lapford
£1,290.90
£1,506.05
£1,721.20
£1,936.35
£2,366.65
£2,796.95
£3,227.25
£3,872.70
Loxbeare
£1,257.95
£1,467.61
£1,677.27
£1,886.93
£2,306.25
£2,725.57
£3,144.88
£3,773.86
Morchard Bishop
£1,270.35
£1,482.08
£1,693.80
£1,905.53
£2,328.98
£2,752.44
£3,175.88
£3,811.06
Morebath
£1,285.11
£1,499.30
£1,713.48
£1,927.67
£2,356.04
£2,784.42
£3,212.78
£3,855.34
Newton St Cyres
£1,281.54
£1,495.14
£1,708.73
£1,922.32
£2,349.50
£2,776.69
£3,203.86
£3,844.64
Nymet Rowland
£1,268.69
£1,480.14
£1,691.59
£1,903.04
£2,325.94
£2,748.84
£3,171.73
£3,806.08
Oakford
£1,277.82
£1,490.79
£1,703.76
£1,916.73
£2,342.67
£2,768.61
£3,194.55
£3,833.46
Poughill
£1,281.33
£1,494.89
£1,708.44
£1,922.00
£2,349.11
£2,776.23
£3,203.33
£3,844.00
Puddington
£1,269.61
£1,481.21
£1,692.82
£1,904.42
£2,327.63
£2,750.83
£3,174.03
£3,808.84
Sampford Peverell
£1,272.72
£1,484.84
£1,696.96
£1,909.08
£2,333.32
£2,757.56
£3,181.80
£3,818.16
Sandford
£1,282.38
£1,496.12
£1,709.85
£1,923.58
£2,351.04
£2,778.51
£3,205.96
£3,847.16
Shobrooke
£1,275.37
£1,487.93
£1,700.50
£1,913.06
£2,338.19
£2,763.31
£3,188.43
£3,826.12
Silverton
£1,275.54
£1,488.13
£1,700.72
£1,913.31
£2,338.49
£2,763.67
£3,188.85
£3,826.62
Stockleigh English
£1,257.95
£1,467.61
£1,677.27
£1,886.93
£2,306.25
£2,725.57
£3,144.88
£3,773.86
Stockleigh Pomeroy
£1,257.95
£1,467.61
£1,677.27
£1,886.93
£2,306.25
£2,725.57
£3,144.88
£3,773.86
Stoodleigh
£1,276.53
£1,489.29
£1,702.04
£1,914.80
£2,340.31
£2,765.83
£3,191.33
£3,829.60
Templeton
£1,313.34
£1,532.24
£1,751.13
£1,970.02
£2,407.80
£2,845.59
£3,283.36
£3,940.04
Thelbridge
£1,265.57
£1,476.50
£1,687.43
£1,898.36
£2,320.22
£2,742.08
£3,163.93
£3,796.72
Thorverton
£1,284.76
£1,498.88
£1,713.01
£1,927.14
£2,355.40
£2,783.65
£3,211.90
£3,854.28
Tiverton
£1,298.26
£1,514.63
£1,731.01
£1,947.39
£2,380.15
£2,812.90
£3,245.65
£3,894.78
Uffculme
£1,314.84
£1,533.98
£1,753.12
£1,972.26
£2,410.54
£2,848.82
£3,287.10
£3,944.52
Uplowman
£1,271.27
£1,483.15
£1,695.03
£1,906.91
£2,330.67
£2,754.43
£3,178.18
£3,813.82
Upton Hellions
£1,257.95
£1,467.61
£1,677.27
£1,886.93
£2,306.25
£2,725.57
£3,144.88
£3,773.86
Washfield
£1,263.98
£1,474.65
£1,685.31
£1,895.98
£2,317.31
£2,738.64
£3,159.96
£3,791.96
Washford Pyne
£1,266.03
£1,477.04
£1,688.04
£1,899.05
£2,321.06
£2,743.08
£3,165.08
£3,798.10
Wembworthy
£1,281.34
£1,494.90
£1,708.46
£1,922.02
£2,349.14
£2,776.26
£3,203.36
£3,844.04
Willand
£1,290.42
£1,505.49
£1,720.56
£1,935.63
£2,365.77
£2,795.91
£3,226.05
£3,871.26
Woolfardisworthy
£1,262.74
£1,473.19
£1,683.65
£1,894.11
£2,315.03
£2,735.94
£3,156.85
£3,788.22
Zeal Monachorum
£1,277.02
£1,489.86
£1,702.70
£1,915.54
£2,341.22
£2,766.90
£3,192.56
£3,831.08