Public Consultation - Tiverton Eastern Urban Extension (EUE) Area B
An area of land, 153ha in size, to the east of Tiverton, is allocated for development. A Masterplan (Tiverton EUE Masterplan SPD) was adopted in 2014. Whilst it covered the whole of the allocated site it was not able to consider all of the site to the same degree of detail. This was due to the absence of some site-wide survey work on land to the rear of properties on the southern side of Post Hill. (The Area of land known as Area B). MDDC planning policy requires the whole area to be masterplanned prior to any development happening on this area. A Public Consultation Event is therefore proposed between 13th June and 11th July 2017 and seeks your views on how the area should be developed.
Presentation boards will be available throughout the four week period in the reception at Phoenix House, Tiverton.
MDDC Officers will also be available at three events to answer your queries:
---
     Saturday 17th June (Exe Rm, Phoenix House) 9am -12pm
     Tuesday 20th June (Halberton Village Hall) 4pm – 7pm
     Thursday 29th June (Exe Room, Phoenix House) 9am -12pm.
---
Before a Masterplan can be adopted, two stages of public consultation are required. The first to consider the scope of the Masterplan and key issues, the second to consider the draft masterplan following receipt of comments that have arisen through Stage 1. This consultation event is the first stage consultation and would welcome your comments on some of the key issues that Mid Devon District Council have identified:
What areas of land should be developed

How much development should be allowed (numbers of dwellings)

How the site should be accessed

Which areas should be developed first – the phasing of development

Where should areas of Green Infrastructure be located

How should the areas of Green Infrastructure be used

How should the areas Green Infrastructure be managed
Tiverton Illustrative Layout Plan
---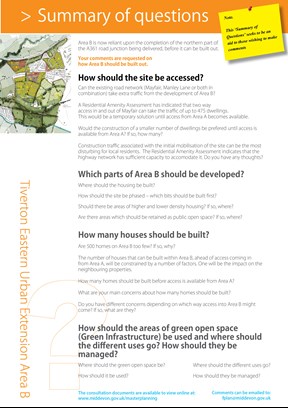 Summary of questions pdf
---
Please see a copy of the exhibition boards giving more detail.
If you would like to submit comments during this consultation please can you attach your full name and address with your comments and these should be sent to MDDC at
     Or sent to
     Planning Services
     Phoenix House
     Phoenix Lane
     Tiverton
     Devon EX16 6PP
---
Background papers
     Residential Amenity Assessment July 2016