Buy a home composter
Our home composters are simple to use and are a great way of turning most kitchen and garden waste into a rich soil conditioner.
The push-fit windproof lid prevents the contents from blowing away and the wide aperture allows easy filling. The extra wide side hatch enables simple removal of the finished compost.
Made from recycled plastic and guaranteed for 10 years.
Available in two sizes
Small - 220 litres
Large - 330 litre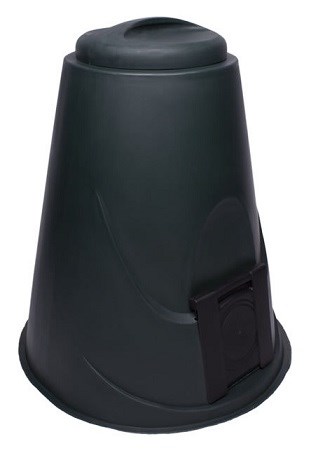 Technical information and prices
Composter

Capacity

(litres)

Dia. x H

(mm)

Colour

Price

Delivery

(or collect for free)

Small
220

740 x 900

Black

£20.00

£5.00*

Large
330

800 x 1000

Black

£25.00

£5.00*
*£5.00 delivery per No. of units purchased - deliveries take place on Fridays.
How can I buy a home composter?
If you'd like to buy one of our home composters, please contact our Customer First team on 01884 255255 to take payment using a debit or credit card over the phone. Once payment has been made, you'll be issued with a call reference number. Please quote this when you come to collect.
Composters can be collected our office at Phoenix House, Tiverton, see Contact details and opening hours.