Refuse
What can I use to put my non-recyclable waste in?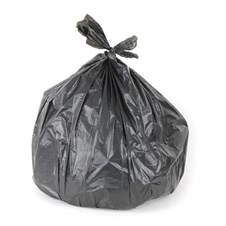 We don't supply free containers for the storage of your non-recyclable rubbish. Instead, please put this out for collection using black sacks, which you can buy at your local supermarket.
If you're worried that your bags could be ripped open by animals, we do accept rubbish stored in your own privately purchased dustbin, providing it's bagged using black sacks and tied at the top so that our collection crews can easily lift it out. We'll accept loose rubbish if it's in a wheeled bin, and so long as it's not brown in colour, (the collection teams will not collect refuse from a brown wheelie bin as these are used for Garden waste).
For further information about this, please see our press release: Mid Devon News - Loose Refuse.
Please note: We can't collect bulky items on your kerbside collection. Please dispose of these by using our Bulky waste service, or by taking them to you nearest recycling centre, see Find a recycling centre.
Can I get a wheelie bin for my black sack waste?
For your information all households within Mid Devon will be issued a grey 180L wheeled bin during the autumn of 2022, if you purchase a wheeled bin before this date no refunds will be given if the bin is no longer required. Properties will only be able to place one grey 180L wheeled bin out for collection unless agreements have been made with Mid Devon District Council or have been issued a permit for the second wheeled bin.
All wheelie bins previously sold by Mid Devon District Council came with a 12 month guarantee which covered fair wear and tear. After 12 months the owner of the bin is responsible for any replacements.