Refuse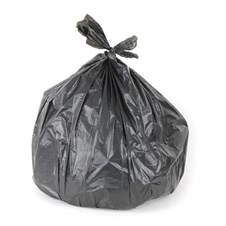 Landfill waste
Waste which we cannot take for recycling or composting is collected for landfill. We do not supply a free container for the storage of your refuse. Instead, please put this out for collection using black sacks which you can buy at your local supermarket.
If you are concerned that your bags could be ripped open by animals, we do accept refuse stored in your own privately purchased dustbin, providing it is bagged using black sacks and tied at the top so that our collection crews can easily lift it out. For further information about this, please see our press release on Mid Devon News - Loose Refuse. We will accept loose refuse if it is in a wheeled bin and so long as it is not brown in colour (the collection teams will not collect refuse from a brown wheelie bin as these are used for Garden waste).
Please note that we cannot collect bulky items with your landfill waste. Please dispose of these by using our Bulky waste service or by taking them to you nearest recycling centre, see Find a recycling centre.
Grey wheeled bins 
We sell grey wheeled bins for the safe storage of your refuse for £35.00 (+ additional £5.00 if delivered). These are 180 litre capacity (height 107cm x width 48cm x depth 73cm) and are available by contacting Customer Services on 01884 255255. You'll need to pay by card over the phone or by cash/cheque at our office, see Contact details and opening hours. If you are not paying the £5.00 delivery charge, you will need to come and collect it from the Council store at Old Road, Tiverton EX16 4HQ.
Related websites
Contact us about recycling and rubbish