Test and Trace Support Grant for Low Income Workers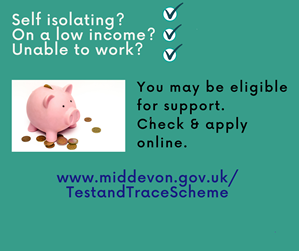 Mid Devon residents who have been instructed to self isolate due to the Covid 19 pandemic may be entitled to a new Government grant.
From 28 September the Government made it law that anyone instructed to self isolate must do so. Failing to do so could result in a fine of up to £10,000 for repeat offenders.
To support the scheme and encourage compliance people on lower incomes, who cannot work from home, may be able to access support in the form of a £500 grant if they have lost income due to self-isolation.
Mid Devon District Council is administering the grant and is encouraging anyone facing financial difficulty, due to self-isolation, to apply to the scheme.
Cabinet Member for Finance, Cllr Andrew Moore, said: "Self isolation can be mentally challenging for anyone but when you have money worries on top it can be a particularly difficult time. Hopefully this grant can ease some financial concerns for those on low incomes in our district, while helping to keep us all safe by adhering to the test, track and system."
To be eligible for a support payment of £500 you must:
live in the Mid Devon area, and;
have been asked to self-isolate by NHS Test and Trace either because you've tested positive for coronavirus or have recently been in close contact with someone who has tested positive, and; (NHS App Instruction to self-isolate cannot apply)
be employed or self-employed, and;
be unable to work from home and will lose income as a result, and;
be aged 16 or over, and;
be currently receiving Universal Credit, Working Tax Credit, income-based Employment and Support Allowance, income-based Jobseeker's Allowance, Income Support, Housing Benefit and/or Pension Credit.
If you're not receiving one of these benefits or you're on a low income and unable to support yourself financially during your self-isolation period, you may still be entitled to help under Mid Devon's discretionary scheme.
To find out more about the schemes and to apply visit: www.middevon.gov.uk/TestAndTraceScheme