Citizen's Panel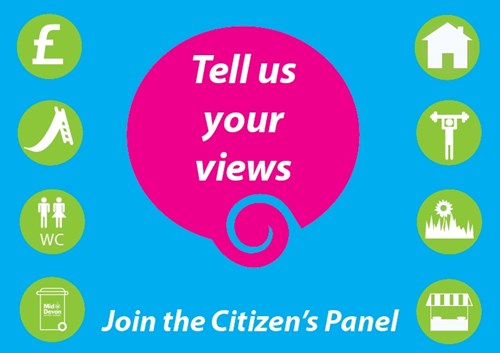 Mid Devon District Council provides a wide range of services for 77,675 people. We need to find out what our customers, the residents of Mid Devon, think about the work we do and the services we provide.
About the Citizen's Panel
Panellists are asked to be part of the panel for three years and take part in up to four surveys a year. These surveys can be conducted by post or email. Some members also volunteer to take part in telephone or face-to-face interviews and attend focus groups. If you do attend the Council will pay your expenses. The Council also intends to use parts of the panel for specific consultation work focused on an area or an age group for instance.
Working with partners
Mid Devon District Council is not the only public sector organisation asking people for their views. We are working closely with colleagues in the County Council, Devon Fire & Rescue Service, Devon & Cornwall Police Authority and Constabulary and North and East Devon Health Authority so as a member of the Citizens Panel you may sometimes get asked questions about their services.
Data Protection
All the information you provide (both your personal details and views about services) will be protected and treated in confidence in accordance with the Data Protection Act. None of your personal details will be passed on to any other organisation, except those above and only when relevant to those organisations.
Additional Information
The Citizens Panel fact sheet and frequently asked questions can be viewed by clicking on the links at the side. All results from each questionnaire will be available from the above link.
How can I join the Panel?
Contact Amy Dugard, Youth and Consultation Officer, on 01884 234276 or email adugard@middevon.gov.uk if you have any questions or would like to join.
Contact Customer Services