Council Encourages Use of Recycling Containers Before Enforcement Begins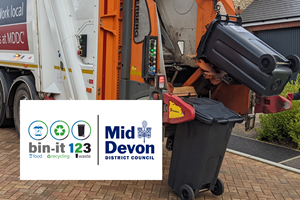 Enforcement of the Council's new three-weekly bin collection scheme will begin from 1 February 2023.
Following the initial three month roll out of the Council's Bin-It 123 waste collection scheme, the Council is reminding residents that non-recyclable waste (including black bags) must be contained within your authorised black wheelie bin or seagull sack, with recycling placed in the appropriate containers that have been provided.  
Cllr Colin Slade, Cabinet Member for the Environment and Climate Change, said:
"It is vital the public support the collection of our waste in the appropriate bins and containers so we can increase our recycling rate and reduce our carbon footprint as a district. This is an essential component of our commitment to achieve net zero status and every household has an important role and contribution to make towards this achievement."
Early results of the scheme, whilst promising, suggest too much recycling is being placed in black bags which is hindering the ambition of the district (Council and residents) to increase its recycling rate and reduce its carbon footprint. Residents should use the correct containers, with a particular focus on the use of your blue food caddy for food recycling. Food waste must not be put in wheelie bins or seagull sacks.
From 1 February 2023, Street Scene staff will be carrying out education and enforcement with residents who are not complying with the scheme. If you wish to speak to the waste management team about an issue or would like a visit to discuss your situation, please contact the customer service team by emailing bin-it123@middevon.gov.uk or calling 01884 255 255.