Council Named Client of the Year for Work on Zero-Carbon Homes
Mid Devon District Council received the prestigious Client of the Year award in the South West's Constructing Excellence Awards, whilst being shortlisted for further regional accolades.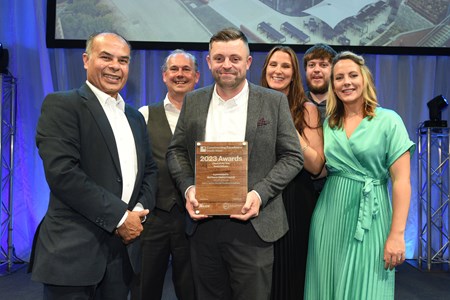 The standout projects that led to this recognition were the zero-carbon developments, being built in partnership with innovative, modular house contractor ZED PODS Ltd, which are set to be installed on council-owned sites in St Andrews Estate, Cullompton and Shapland Place, Tiverton.
Both developments are set to be zero operational carbon, making this one of the first social housing projects of this type within the district.
The judges were extremely impressed by the Council's approach to meeting their requirements whilst adopting a framework to support Modern Methods of Construction. The Council was also recognised for embracing the future and inviting neighbouring authorities to share their experiences.
The planned housing development in Shapland Place, Tiverton was also shortlisted in four categories at the ceremony on 20 July. They were:
MMC Award (Modern Methods of Construction)
Sustainability Award
Net Zero Award
Residential Property of the Year
This follows successes at the awards in 2022, with the Cullompton development being awarded the MMC Award and being shortlisted in three further categories.
Councillor Simon Clist, Deputy Leader and Cabinet Member for Housing & Property Services, said:
"This recognition is a testament to the hard work and dedication of our team, who consistently strive for excellence. We take great pride in our work, and this award reaffirms our commitment to delivering sustainable housing for our community."
The awards were run by Constructing Excellence South West which forms part of the Constructing Excellence Regional Partnership (CERP) and exists to improve industry performance in order to produce a better built environment.
Tom Northway, Chairman of Zed Pods, said:
"Zed Pods are proud to nominate Mid Devon for this award.
The council's team have been focused on delivering exemplar net zero projects.
Together, we overcame numerous barriers – from demystifying perceptions of Modular Housing to unlocking brownfield sites for development including a scheme in a Flood Zone - one of the first in the UK!"
With this win, the Council automatically becomes a finalist in the same category at the National Constructing Excellence Awards Programme, to be held on 23 November 2023 in London.
An overview of the proposed developments:
The site in Cullompton looks to provide 3 one-bed and 3 two-bed homes, each with their own car parking spaces. A mural on the building has also been set out in the plans which will seek design ideas from the local community.
Find more information on the proposed development in St. Andrews Estate, Cullompton: www.zedpods.com/mid-devon-st-andrews-estate
An additional 8 Zed Pods homes and 28 parking spaces are planned for development in Tiverton are only a few 100 metres from the River Exe and town centre. The proposals include a mixture of housing types, including 4 one-bed, 3 two-bed and 1 three-bed homes.
Find more information on the proposed development in Shapland Place, Tiverton: www.zedpods.com/mid-devon-shapland-place
Both sites will be completed with triple glazing and solar panels, have their own private communal green space as well as separate storage for residents' bins and bicycles – with plans for new homes to be built on land previously occupied by garages and car parking.
Councillor Simon Clist, added:
"As identified within our Housing Strategy, there is a need for more social rented housing within the district. These ready to move homes and our long-term programme of housing look to positively address this – these new zero-carbon, energy-efficient homes are a way forward and will help towards the Council's net-zero ambitions."