Council's housing service shortlisted for national 'Team of the Year' award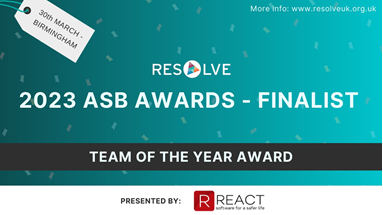 Mid Devon Housing has been nominated for a national award recognising its efforts to resolve community safety issues and anti-social behaviour in Mid Devon.
The awards are given by Resolve, an anti-social behaviour (ASB) help organisation which deals with community safety and ASB issues through training, support, guidance and sharing best practice. The awards offer a chance to recognise and celebrate the best projects, teams and practitioners of the year.
Simon Newcombe, Corporate Manager for Public Health, Regulation & Housing said:
"To be shortlisted for this award is well-deserved and recognises the amount of work the Mid Devon Housing team have put in to addressing the ASB issues in the district. They have shown how important it is to work as a partnership as well as with the community."
The successful submission focuses on efforts to tackle 'County Lines' drug issues through the Neighbourhood team's partnership approach with Neighbourhood Policing, mental health services and social services. The team has been working with residents to address issues of anti-social behaviour and taking enforcement action as part of targeted interventions.
A hugely successful ASB awareness week 2022 ensured that the Mid Devon Housing team could raise the importance of reporting incidents of anti-social behaviour to the Council and why raising awareness of ASB is crucial to community safety.
Simon continued:
'The Housing teams and individuals involved have been instrumental in pulling the submission together and (most importantly) for the initiative and energy needed to develop this work and all the positive outcomes. Truly an above and beyond effort.'
The awards ceremony is taking place in Birmingham on 30 March when the winners will be revealed.