Countdown To Mid Devon's Elections Is On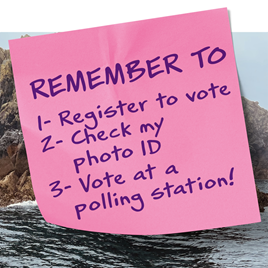 Work towards the district wide elections, being held on 4th May 2023, is gearing up as more than 400 candidates have now been officially announced.
Yesterday details of the candidates nominated for election for all of Mid Devon's parish, town and district councillor seats were publicised.
Mid Devon has a total of 468 candidates standing at the elections, with all 22 district council wards being contested, while 10 parish councils are contested and 48 parishes are uncontested.
Residents in the district should now have received their poll cards ready for polling day, but don't worry you can still vote in person without it, as long as you are on the electoral register.
If you are attending a polling station to cast your vote you must bring a valid form of photo ID along with you. This is new for the 2023 elections and affects local elections across the country.
Jill May, Returning Officer, at Mid Devon District Council said:
"Our Election's team is doing a fantastic job preparing for polling day but we also need our residents to support us by remembering to bring their photo ID with them and to apply for any postal or proxy votes they need in good time.  These elections only take place every four years so it really is your chance to have a say on who runs your council."
Polls open at 7am on Thursday 4th May and close at 10pm. You can find details of your polling station on your poll card and on our interactive map.
Here is a reminder of some important election dates coming up:
Last date to register as an elector, Monday, 17 April 2023
Deadline for postal vote applications is 5pm, Tuesday 18 April 2023
Deadline for proxy vote applications is 5pm, Tuesday 25 April 2023
Deadline to apply for a Voter Authority Certificate (if you don't have any valid photo ID) 5pm, Tuesday 25 April 2023
Full details about the candidates and how to vote is available on our Elections page.