Keep connected – access our services online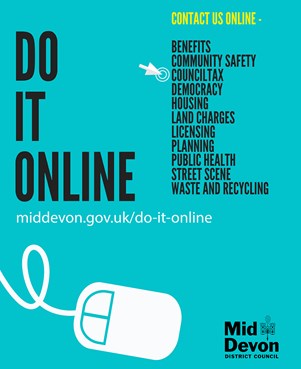 Mid Devon District Council is reminding customers they can keep accessing council services online.
With Phoenix House offering reduced opening hours for visitors in person, in line with the Government's rules to avoid non-essential travel, many council services are accessible 24 hours a day, online.
Remember you can use our website to access many services such as changing your address, paying for council services, having your say, accessing business support and reporting anti-social behaviour.
The Council has also introduced a new system for council tax enquiries and accounts can now be managed online through the council's new Citizen Access portal. The secure online portal allows you to:
view up-to-date account information such as your balance, instalments, payments, arrears, recovery history and property banding;
ask a question about your Council Tax;
switch to paperless e-billing;
setup or change a Direct Debit payment;
upload documents as evidence in support of;
reporting a change of circumstances, or;
applying for a discount, exemption or refund, and;
view your Housing Benefit and/or Council Tax reduction entitlement.
To see all the self-serve web options that are available, visit middevon.gov.uk/do-it-online/.