New Taste Mid Devon project promotes local producers
The mouth-watering story of some of Mid Devon's finest food and drink suppliers will be told as part of an innovative new project.
Taste Mid Devon secured funding from the UK Shared Prosperity Fund to support local businesses, and is using this funding in a new 'Field to Fork' campaign. The campaign will tell the story of how some of Mid Devon's food and drinks are produced. It aims to help promote the region and its amazing food and drink suppliers both nationally and internationally.
Local photographer and videographer, Becky Craven, was awarded the 'Taste Mid-Devon' contract by Mid Devon District Council. Becky will work with ten carefully selected producers and the retailers/eateries that they supply throughout the summer and autumn. Businesses that have already been selected and signed up for the project include Rull Orchard, Appledore Farm Eggs, Quicke's Cheese, Wellhayes Vineyard, Bakers Devon Honey and Ellises Farm.
Becky, who lives in the heart of the county near Tiverton, will visit each producer to capture the 'field to fork' journey of their superb produce in stunning photographs and video, from planting in the county's beautiful fields all the way through to tasting the final delicious products.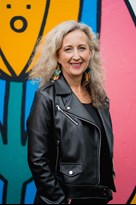 Becky said:
"I am thrilled to have won this contract, as collaboration is at the heart of my business. I live in Mid Devon and I am passionate to work with other local food and drink suppliers. I can't wait to start, help local business to blossom and grow by creating outstanding photos and videos for them."
Zoë Lentell, Economic Development Team Leader at Mid Devon District Council, added:
"We aim to create a visual chronicle of the journey our produce takes from the field to the fork (or glass) to celebrate the great food and drink we have on offer here.
"Mid Devon is rich in agriculture, known for our fresh local produce and quality of taste. Through this showcase, we hope to awaken interest in buying locally, encouraging people to reconnect with food, understand the local food journey and the independent business community it supports and rediscover amazing flavours in the process."
Photo 1 - The owners of the Wellhayes Vineyard
Photo 2 - Local photographer and videographer, Becky Craven