Graham Barton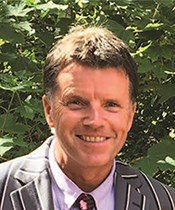 Biography
Graham with his trademark striped blazers is perhaps the most instantly recognisable auctioneer in the country by virtue of his multitude of appearances on BBC1's daytime auction phenomenon 'Homes under the Hammer' where his knowledge and expertise in pretty well every aspect of property and land in the West Country has been on display for over thirteen years.
 
He is also arguably the most widely experienced auctioneer of his generation with a tough apprenticeship over many years in a Devon livestock market being his introduction to life on a rostrum. From there he progressed to all the duties of a typical rural practice auctioneer including antiques, on-farm sales, plant and machinery and alike, but it was when the Senior Partner offered him the chance to auction a small farmstead in East Devon that the seed was sown to become a property auctioneer.
 
Three years full time study on an Estate Management course at the now named Southampton Solent University led ultimately to qualification as a Chartered Surveyor but after returning to his original firm the call of the wider world became too much and he became a full-time property valuer and auctioneer for Royal Sun Alliance whose Estate Agency brands included Gribble Booth & Taylor (now Fox and Sons) and Allen and Harris covering the West Country, Bristol and M5 and M4 corridors.
 
A brief flirtation with a property consultancy by the name of Glaspers Land Agency followed a few years later and it was during this time that he was approached by Fulfords to set up a Property and Land Auction Department covering their estate agency network across the South West. This operation in due course incorporated the sister brands of Chappell & Matthews and Palmer Snell and became West Country Property Auctions which went on to sell more property and land from the rostrum than any other firm in the West of England for multiple years.
 
After a decade, a tap on the shoulder from Mr Clive Emson (who Graham describes as the Sir Alex Ferguson of the auction world) changed everything and he was appointed Manager and Senior Auctioneer and Valuer for the debut West Country office of the Clive Emson brand. Today from his office in Exeter, Graham and his team cover the West Country and South Wales giving auction guidance on every kind of investment and refurbishment property you can imagine whether residential or commercial, industrial or agricultural, sometimes vacant and sometimes tenanted, along with development lots and land of all types.
 
Clive Emson Auctioneers has five offices across the South of England and every six weeks or so they dispose of over £20,000,000 worth of property and land assets with sale rates typically around 85% (2017 figures), more than any other auction house in the sector.
 
Graham enjoys the legal side of his work having read hundreds probably thousands of auction packs and converses easily with solicitors and conveyancers about their side of the auction process.
 
He's also often asked where his rather distinctive style of auctioneering comes from to which the answer is that having been brought up selling two hundred lots (sometimes more) an hour in cattle markets and furniture salerooms in his early years, Graham finds the pace of twenty or thirty property or land lots every sixty minutes very comfortable indeed leaving plenty of time to find some humour along the way to put everyone at ease.
 
Aside from BBC's 'Homes under the Hammer' Graham has made appearances on Channel 4's 'The Hotel Inspector' with Alex Polizzi as well as 'Uncharted Waters' another BBC programme, this time providing insight into overseas property markets.
 
Outside of work, Graham is never happier either making his way round one of the region's golf courses or conducting a charity auction somewhere in the West Country adding to the estimated one million pounds plus he's already played a part in raising over the years.
Related websites
Downloads
Contact us