Unique opportunity for Mid Devon food and drink producers
Mid Devon food and drink producers are being offered a unique opportunity to get their business off the ground or reach new customers.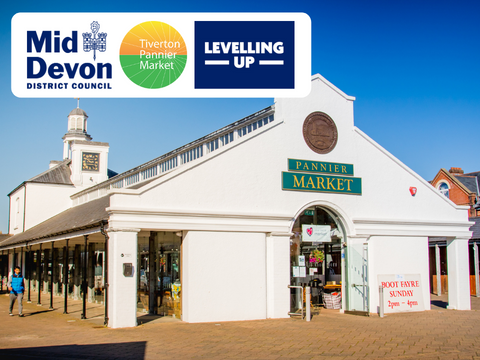 Tiverton Pannier Market has secured funding via the Field to Fork scheme, enabling it to offer free stalls to producers who can bring something new to the historic venue.
Producers can secure a succession of free or heavily discounted stalls, potentially over many months.
Jim Bray, Markets Manager, said:
"This is an excellent and rare opportunity for local businesses looking to expand or promote a new product, while greatly benefitting the market and visitors at the same time.
"If you grow, rear or make food or drink in Mid Devon and your business or product is new to Tiverton Pannier Market, we'd love to hear from you.
"We're keen to showcase products that aren't currently offered here, whether at all or on a particular day of the week.
"We'll look kindly on traders offering items like meat, fish, bread, cheese, pies, pasties, sausage rolls, jams or preserves."
Successful applicants are set to start by attending Tiverton Farmers Market, which takes place on the first Saturday of every month (9am to 2pm).
It is hoped they will develop into regular traders at general markets, which are held every Tuesday, Friday and Saturday (8.30am to 4pm).
"We're open to ideas and will give priority to traders likely to have the most positive impact on the market as a whole," said Jim.
"This may include traders who can cover a wide range of products or those able to attend up to three days a week.
"If you're interested but are concerned about issues like staffing, family or time commitments, we'll look into other options, including the potential for a co-operative with a shared space for several businesses.
"It will come down to what we feel is best for the market in the short and long-term."
Free or heavily discounted stalls will come with one or two tables, a parking permit and use of electricity and the market's waste and recycling bins.
Successful applicants can take advantage of other support, including strong promotion on social media.
Producers located in or very close to Mid Devon are eligible to apply.
Traders who have attended the market in the past six months will only be eligible if they apply to trade on a different day to before.
For more details or to express your interest, please call Jim on 07815 791191 or e-mail him at jbray@middevon.gov.uk.
The market secured the cash via the UK Shared Prosperity Fund (UKSPF), which forms part of the government's Levelling Up agenda.
Mid Devon District Council was allocated a tranche of UKSPF funding to boost towns and businesses following the UK's departure from the European Union.