Council responds to coverage concerning plastic waste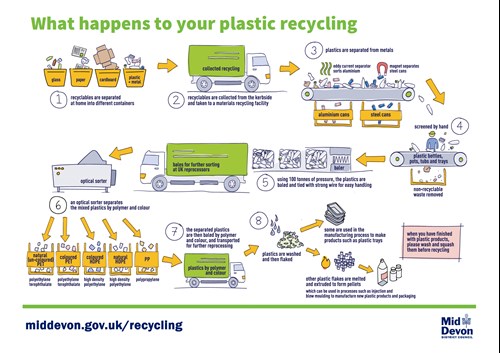 Mid Devon residents will no doubt have seen the recently aired BBC's War on Plastic documentary and understandably, will be upset about the unethical recycling practices the programme uncovered.
In response, the Council wishes to assure its residents that the processing of Mid Devon recycling is conducted legally, responsibly and ethically after collection, as explained in the following FAQs:
Is my recycling being sent to developing countries?
No. You can rest assured that your recycling is not being sent to countries such as Malaysia, or any other developing countries.
Is my recycling really being recycled? I've heard it goes to landfill?
All the recycling you put out for us to collect at the kerbside is genuinely recycled - and mostly here in the UK - into new glass bottles, car parts, aeroplane components, cardboard and more. A small percentage is reprocessed in Europe, again legally, responsibly and ethically.
 A small amount of materials are rejected due to contamination from food waste. Rejected items, along with black sack waste, are sent to an Energy Recovery Facility (ERF) based in Exeter, where it's incinerated and converted into household electricity. We've had a zero-to-landfill policy for almost two years and we're proud to confirm that none of the waste we collect ends up in landfill.
Can I visit the ERF and see for myself?
Yes you can. You can visit the ERF in Exeter to see how your non-recyclable waste is converted into household energy. Visit Viridor - Exeter ERF to book a free tour.
How can you be sure where my recycling ends up?
We have a very clear understanding of where your recycling goes, where and how it's reprocessed and what it's turned into.
Why is quality important?
The quality of the recyclable materials we collect directly influences its value on the market.
Where do you send my recycling?
We use up to seven different contractors at a time, depending on the price we can get from the market. We're unable to name the contractors due to commercial sensitivity. Legally we have to declare to central government where the materials are sent for processing to ensure that they're recycled lawfully.
Why is the quality of recycling collected in Mid Devon higher than many other areas of the UK?
One reason we have such high quality recyclable materials to trade is that we only collect items which have a market value. We could choose to collect a wider range of materials through your kerbside collections, however, we can't be sure of a long term market to reprocess these materials ethically and responsibly. We have made a conscious decision to prioritise ethical reprocessing.
Another reason is that we have you, our residents, to thank for the high quality of our recyclables. We ask that tins, plastics, cardboard, paper and glass are separated before being put out for collection, rather than mixed in, see Recycling guidance for how to sort your recycling box(es). While the one-recycling bin system operated by some urban authorities may seem more convenient, it's actually more harmful to our environment as it results in lower recycling rates due to cross-contamination from other materials.
We hope this reassures you that here in Mid Devon, we can be confident and proud that the materials we send for recycling are being reprocessed legally, responsibly and ethically.
We hope to increase our recycling rate to 75-85% by encouraging more residents to recycle their waste using their black and green recycling boxes. Our recycling rate for 2018/19 reached just over 53%, see Mid Devon's recycling rate on the up another year running.