Food waste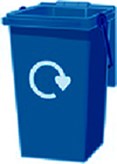 What to put in your blue 23L Kerbside Caddy
You can put the following cooked or uncooked food in your blue caddy:
Yes please:
No thanks:

Meat and bones
Tea and coffee grounds
Dairy produce
Bread and pastries
Fruit and vegetables
Fish
Rice
Pasta
Eggshells

Garden waste
Pet waste
Liquids
Oil and liquid fats
Food packaging
Useful tips and hints:
Use a kitchen food bin to collect food waste, then transfer to the blue caddy*
To clean your caddy, rinse with warm soapy water
Your blue caddy has a lockable lid to help keep animals out; to lock, push the handle down towards the front of the caddy
If you want to line your caddy you can use any type of compostable liner or plastic bag, see Bin liners
You can use small amounts of kitchen roll or newspaper to line your caddy and wrap your food waste
*We no longer replace 5L Kitchen Caddies for internal storage of food waste. These were previously issued to households that didn't receive food or garden waste collections before the Waste Service changes in 2015. If you still want a kitchen caddy, these can be purchased from the garden sections of most home hardware and DIY stores.
Frequently asked questions: