Help with food and energy costs
Household Support Fund October 2022 – March 2023
The Government has allocated more funding to local councils to help those households struggling most with the increase in the cost of living. When our allocated fund has been spent the scheme will close.
Mid Devon District Council will be using its Household Support Fund allocation in the following ways:
Direct Award
We will contact those working age households receiving Housing Benefit who did not receive the £650 Cost of Living Payments from the DWP earlier this year. They will be allocated vouchers for food and energy costs.  Those who are in receipt of one of the following and have not received the £650 Cost of Living Payment should contact DWP:
* Universal Credit
* Income based Jobseeker's Allowance (JSA)
* Income related Employment and Support Allowance (ESA)
* Income Support
* Pension Credit
* Child Tax Credit
* Working Tax Credit
Please visit www.gov.uk/guidance/cost-of-living-payment for more details.
Applications
There will be two application schemes, the first running from mid-November until 31st December 2022 or sooner if funds run out. The second scheme will run from mid-January until 31st March or sooner if funds run out.
Vouchers will be awarded for food and energy costs. The amount awarded will depend on the applicant's circumstances and level of assistance needed.
To apply please use our online form. Only one application per household will be considered for the period October 2022 – March 2023. Priority will be given to those households in the most need.
Please keep checking this page regularly for updates.
---
If you need food urgently please contact your local food bank.
CHAT (Tiverton area): Opening Hours 9.30-12.00pm weekdays, or call 01884 255 606, 9.30-4.30pm weekdays (leave a message if not answered) or email: theoffice@chatmid.co.uk
CREDITON Food Bank: Opening Hours 9.30-12.30pm Tuesdays and Fridays or call 07740 202721 weekdays, 9-4pm or email: creditonfoodbank@gmail.com
CULLOMPTON Food Bank: Opening Hours 9.30-11.30 am Fridays or call 01884 33249 weekdays, 9-3pm or email: pm@standrewscullopmton.com
LAPFORD Food Bank: Opening Hours 10-2pm Tuesdays and Fridays or call 01363 83788 and leave a message or email: foodbank@lapfordcc.org.uk
Local Community Larders are stocked with free food for people in the community. Food which would otherwise have been thrown away is collected from supermarkets in the area:
TIVERTON Community Larder at the Tiverton Library: Opening hours 9-6pm Monday to Friday (Closed on Wednesdays) and 9-4pm Saturday.
BRADNINCH Community Food Shed: Call 01392 881 190 or email: lucy.mottram@devon.gov.uk
UFFCULME Community Fridge: Opening Hours 9.30-11 am every weekday (closed on weekends). Call 07412 610 502 or email hello@uffcommfridge.org.uk. 
---
Household Support Fund for Pre-Payment Meters (CAB)
If you have a pre-payment meter and are struggling with bills or you know someone else who is, the Citizens Advice Bureau can advise on eligibility and help you to apply.
This fund is available until March 2023. Find out more information at www.energysavingtrust.org.uk
Call the local Advice Line for free on 0808 27 87 999.  
Get advice and webchat via www.ruraldevoncab.org.uk click on 'get advice'
Or email info@ruraldevoncab.org.uk
---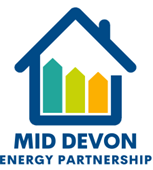 CHAT - Mid Devon Energy Partnership.
See how to get help with:
• Energy and money saving tips and advice
• Free installation of energy saving measures
• Grants for insulation/heating
• Access to a hardship fund
• Further help with housing, debt and money concerns
---
Holiday Activities and Food (HAF) programme
Have you heard of the Devon Holiday Activities and Food (HAF) programme?
The aim of the Holiday Activities and Food (HAF) programme is to support children to eat more healthily, be more active over the school holidays and have a greater knowledge of health and nutrition as well as be more engaged with school and other local services.
Devon County Council are working with sixty nine providers across Devon to offer fully funded places on HAF approved Holidays Schemes.
*Please note to access the programme children must be eligible for benefit related free school meals.*
To find out what is happening in your area please check out:
https://www.devon.gov.uk/educationandfamilies/family-support/haf-programme
---
Warm Home Discount Scheme
Check if you're eligible for warm home discount
---
Energy Saving Advice
---
Winter fuel payments – up to £600 for pensioners from today
From today (23 November), over 11.6 million pensioners in England, Wales, Scotland and Northern Ireland will start to receive payments of up to £600 to help with their energy bills this winter. Winter Fuel Payments (WFPs) will land in bank accounts over the next two months, the vast majority automatically. The overwhelming majority of WFPs are paid automatically but some people need to make a claim by contacting the Department for Work and Pensions, such as those who qualify but do not receive benefits or the State Pension and have never previously received a WFP.
---
Additional support with energy costs
---