Post Hill, Tiverton Proposals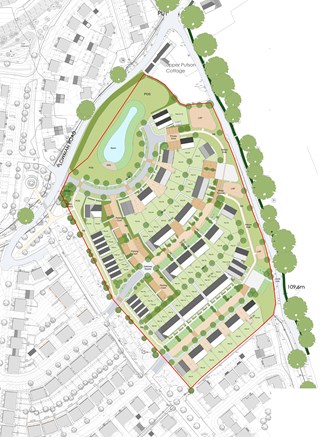 We are seeking your views on a proposed development of 70 sustainable and affordable homes at Post Hill, Tiverton.
If our plans are approved, the scheme would feature a combination of 1, 2, 3 and 4-bedroom houses and flats with:
Sixty-two homes at affordable rent
Eight homes at social rent
Sustainable homes for the future
Our vision is to develop a sustainable and sensitively designed development against a recognised standard: PassivHaus. (PassivHaus homes are net-zero-ready buildings using very little energy for heating and cooling.) Homes at Post Hill will therefore have low carbon emissions and affordable running costs.
The proposed development offers further green initiatives, including:
Developed pedestrian and cycle links within the site and to the local area
A single cul-de-sac style access for vehicles, without through road, which will prevent significant traffic through the site.
Large green spaces
Pedestrian connected access to ensure the development feels connected to the environment.
Tackling a national housing shortage
Land beside the Barratt/David Wilson Homes at Braid Park (Post Hill), provides an opportunity to create a community of affordable, high-quality homes addressing a national housing shortage.
This development also provides an opportunity to address a particular shortage of affordable homes in the area. Mid Devon's Local Plan aims to provide 365 home a year until 2033. This development plays an important role in meeting Tiverton's housing needs.
Get involved
This could bring important benefits to the local area by providing much needed affordable homes which play an important role in addressing climate change and rising energy costs.
You can find out more at three public consultation events, happening in April. These offer the opportunity to have their say on the proposals and to find out more directly from members of the project team.
The events are taking place at Tiverton Golf Club, Post Hill, EX16 4NE.
Monday 25 April (5pm – 8.30pm)
Tuesday 26 April (5pm – 8.30pm)
Wednesday 27 April (3pm – 7.30pm)
What to expect
Public consultation events offer local residents, local businesses, and interested parties the opportunity to help shape the development for the future of the local area. Anyone attending the event will have the opportunity to speak directly with project planners and the development project team to ask questions and explore information about the project in their own time. Feedback forms are available to complete on the day or can be taken away for further thought and reflection.
Have your say online
If you are unable to attend an event, you can give your views using this feedback form. Information from the event will be made available on this web page.
Contact Us
For more information, or for any queries, please feel free to contact us by telephone on 0330 107 0535 or email at  posthilldevelopment@social.co.uk