Tiverton Town Centre Regeneration Masterplan Supplementary Planning Document
Your views are important to us
---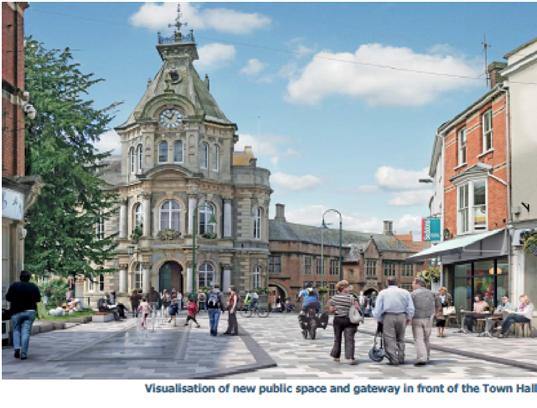 ---
Mid Devon is developing a masterplan for Tiverton Town Centre. This is a key regeneration project that aims to enhance the economic prospects of the town and provide a clear strategy to make sure Tiverton builds on its existing qualities and assets to meet its full potential as a thriving market town. For information on the masterplan process, please see our recent Cabinet report.
In accordance with Mid Devon's Statement of Community Involvement, the masterplan SPD will be subject to two stages of public consultation: Stage 1, presentation of options that might be included in the masterplan, and Stage 2, the draft masterplan itself.
In putting together the draft options, we have drawn together studies previously carried out on improving the town, as well as views from a number of local organisations and businesses, in order to come up with suggestions for the contents of the masterplan. These draft options form the Stage 1 consultation.
The Stage 1 public consultation for the Tiverton Town Centre Regeneration Masterplan is running from Monday 30th April until Sunday 10th June 2018. The aim of the Stage 1 consultation is to gather comments on a number of draft options for town wide initiatives and key development areas that could be included within the masterplan. Your comments on the questionnaire provided are welcomed in order to help shape a masterplan document for future consultation.
We are also asking you to comment on one potential way the Pannier Market could be developed and there is a separate comments form for this element of the consultation.
The consultation material will be available to view during the whole of this period at:
     Tiverton Pannier Market
     Phoenix House Reception
In addition, there will be manned exhibitions in the Pannier Market on:
Saturday 5th May - 5pm to 9pm at Electric Nights
Friday 18th May - 10am to 1pm 
So please come along and help shape the future of Tiverton Town Centre, or comment online or by post.
Written responses may be submitted to: econdev@middevon.gov.uk
or posted/ delivered to:
  Tiverton Town Centre Regeneration Masterplan Public Consultation,
  Growth, Economy & Delivery Team,
  Mid Devon District Council,
  Phoenix House,
  Phoenix Lane,
  Tiverton EX16 6PP
---
When submitting a comment please include your name and full postal address. Your details will be used only in accordance with the Tiverton Town Centre Regeneration Masterplan and other planning matters.
To understand how we use your personal data, please see the relevant privacy notice under the General Data Protection Regulation: https://www.middevon.gov.uk/residents/planning/privacy-notices/.
More details about…
Contact us