Black box recycling
What to put in your black recycling boxes
Includes most types of plastic packaging!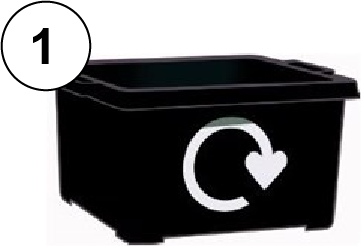 Please only put the below item in your black recycling box 1. They can be mixed as they all go in the same compartment of the lorry
Tins/cans/Foil:

Food tins
Drinks cans
Metal foil wrap
Metal foil trays
Sweet and biscuit tins

Bottles
Pots**
Tubs
Trays
Plastic carrier bags***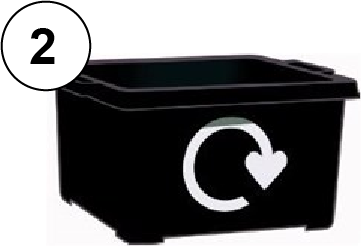 Please only put the below items in black recycling box 2 and separate the best you can.
Glass*:

Paper:

Office paper
Shredded paper (please bag)
Newspaper/directories
Magazines
Junk mail
White envelopes

Batteries****:

AAA
AA
C and D
6V and 9V
We don't currently accept Lithium Ion batteries.
Please tape terminals where possible.
* Includes mixed coloured glass
** Includes plant pots
***Only carrier bags or white pedal bin liners please – we can't collect any other types of polythene at this time
**** Batteries must be placed inside a clear plastic bag/pot inside black recycling box 2
If you only have room for one recycling box, as long as it's clean and tidy, we'll hand sort it by the kerbside for you.
---
Clean and dry textiles can be put in a clear plastic bag in/next to black recycling box 2
---
Please:

No thanks:

Put shredded paper in carrier bags or white pedal bin liners to avoid littering during windy conditions
Rinse out all bottles, cans, tins and plastic
Squash all cans, tins and plastic
Squeeze air out of bottles and replace lids
Remove film from plastic pots and tubs
Help our crews do their job quickly and safely by sorting your recycling within your boxes, see Recycling guidance
Shoes must be paired
Textiles must be dry, unsoiled and placed in carrier bags or white sacks - wet items will not be collected

Bubble wrap
Waxy paper
Paper saturated in grease
Broken glass
Sheet glass or glass cups
Car batteries
Plastic film/cellophane
Rigid plastics such as toys, garden furniture or hubcaps
Stuffed items such as duvets, pillows and cushions, etc.
More about the plastic packaging we can take
| | | |
| --- | --- | --- |
| | | |
| Plastic pots | Plastic tubs | Plastic trays |
| | | |
| Drinks bottles | Detergent bottles | Shampoo bottles |
Frequently asked questions: