Charges for 2020/21
How much will I pay?
What you'll pay for 2020/21 depends on the 'banding' of your property and your own Town or Parish Council's precept. To find out exactly how much you'll pay, see Council Tax Charge per Town or Parish below.
How is my council tax spent on services in Devon?
The full amount of council tax paid consists of five individual charges from five separate authorities known as 'precepts':
Precept

Avg. band 'D' charge

*Increase

Devon County Council
(Includes 2% for Adult Social Care)

£1,439.46

3.99%

Devon & Cornwall Police Crime Commissioner

£221.64

4.41%

Devon & Somerset Fire & Rescue

£88.24

1.99%

Mid Devon District Council

£208.84

2.45%

Town and Parish Councils
(Average)

£63.27

5.5%

Total

£2,021.45

3.83%
*Note: On your Council Tax bill, the increase is rounded to 1 decimal place. The front of your bill shows a percentage change figure between last year's bill and this one. If you apply the percentage change to last year's bill, you may arrive at a slightly different figure. This is because the true change reflects more than one decimal place. Our increase has been set within the referendum limit for a Band D property.
Every £1 of council tax you pay is split in the following way for services: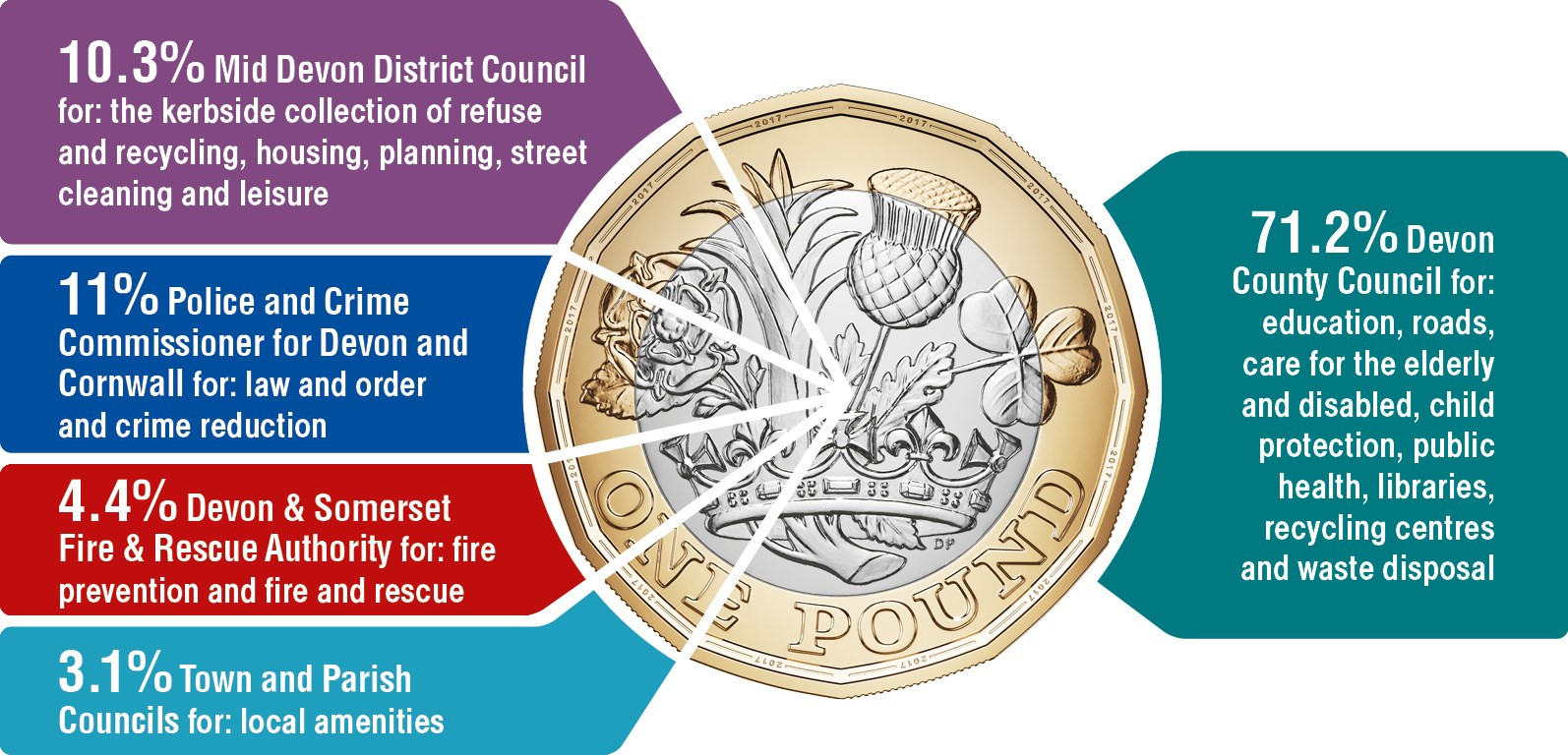 The figure for Town and Parish Councils is an average.
How is it spent in Mid Devon and how does this compare to last year?
The following chart shows how our gross spending plans for 2020/21 compare to 2019/20: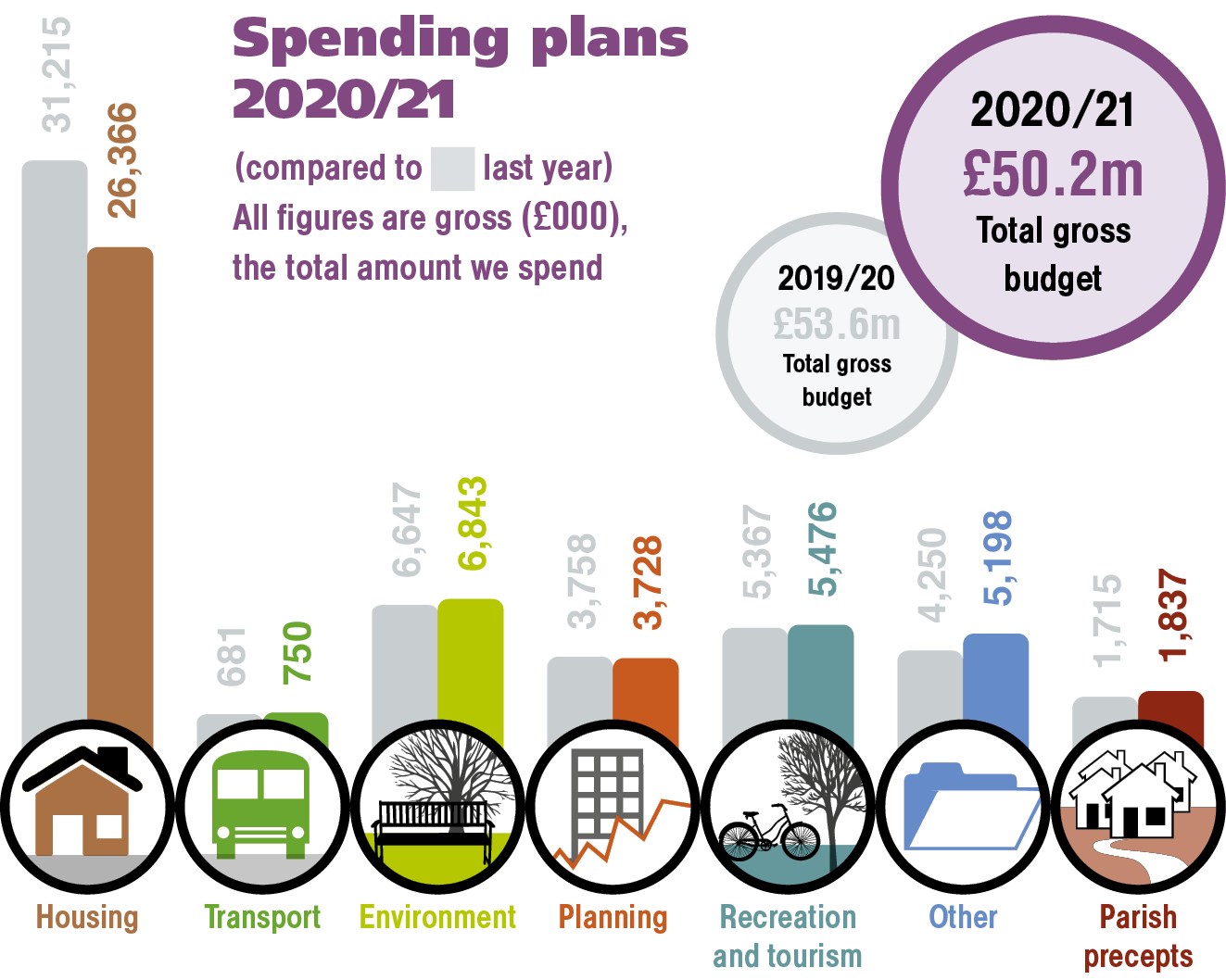 Although we've increased our share of council tax by 2.45% for 2020/21, our overall proportion has decreased from 10.5% in 2019/20 to 10.3% for 2020/21. A Band D property will be required to pay £208.84.
The proportion of charges are calculated in relation to a Band 'D' property as follows:
| | |
| --- | --- |
| A | 6/9ths (two-thirds of the full charge) |
| B | 7/9ths |
| C | 8/9ths |
| D | 9/9ths (the full charge) |
| E | 11/9ths |
| F | 13/9ths |
| G | 15/9ths |
| H | 18/9ths (twice the full charge) |
See Statement of service provision for 2020/21 for an overview of the services and enhancement work we'll continue to deliver in 2020/21.

Council Tax Charge per Town or Parish
Below is a list of this year's charges. To find out exactly how much you'll pay, check the amount in the row your Town/Parish is in, against your property band. Amounts shown include all five authorities charges added together:
| Parish | A | B | C | D | E | F | G | H |
| --- | --- | --- | --- | --- | --- | --- | --- | --- |
| Bampton | 1,358.08 | 1,584.42 | 1,810.77 | 2,037.11 | 2,489.80 | 2,942.50 | 3,395.19 | 4,074.22 |
| Bickleigh | 1,329.52 | 1,551.10 | 1,772.69 | 1,994.27 | 2,437.44 | 2,880.62 | 3,323.79 | 3,988.54 |
| Bow | 1,320.81 | 1,540.93 | 1,761.07 | 1,981.20 | 2,421.47 | 2,861.74 | 3,302.01 | 3,962.40 |
| Bradninch | 1,343.00 | 1,566.83 | 1,790.66 | 2,014.49 | 2,462.15 | 2,909.83 | 3,357.49 | 4,028.98 |
| Brushford | 1,305.46 | 1,523.03 | 1,740.61 | 1,958.18 | 2,393.33 | 2,828.49 | 3,263.64 | 3,916.36 |
| Burlescombe | 1,330.58 | 1,552.34 | 1,774.10 | 1,995.86 | 2,439.38 | 2,882.92 | 3,326.44 | 3,991.72 |
| Butterleigh | 1,318.00 | 1,537.66 | 1,757.33 | 1,976.99 | 2,416.32 | 2,855.66 | 3,294.99 | 3,953.98 |
| Cadbury | 1,310.98 | 1,529.47 | 1,747.97 | 1,966.46 | 2,403.45 | 2,840.45 | 3,277.44 | 3,932.92 |
| Cadeleigh | 1,317.90 | 1,537.54 | 1,757.20 | 1,976.84 | 2,416.14 | 2,855.44 | 3,294.74 | 3,953.68 |
| Chawleigh | 1,339.52 | 1,562.77 | 1,786.02 | 2,009.27 | 2,455.77 | 2,902.29 | 3,348.79 | 4,018.54 |
| Cheriton Bishop | 1,336.13 | 1,558.82 | 1,781.51 | 2,004.19 | 2,449.56 | 2,894.95 | 3,340.32 | 4,008.38 |
| Cheriton Fitzpaine | 1,327.91 | 1,549.23 | 1,770.55 | 1,991.86 | 2,434.49 | 2,877.14 | 3,319.77 | 3,983.72 |
| Clannaborough | 1,305.46 | 1,523.03 | 1,740.61 | 1,958.18 | 2,393.33 | 2,828.49 | 3,263.64 | 3,916.36 |
| Clayhanger (B Gate) | 1,321.54 | 1,541.79 | 1,762.05 | 1,982.30 | 2,422.81 | 2,863.33 | 3,303.84 | 3,964.60 |
| Clayhidon | 1,332.61 | 1,554.70 | 1,776.81 | 1,998.90 | 2,443.10 | 2,887.31 | 3,331.51 | 3,997.80 |
| Coldridge | 1,330.81 | 1,552.60 | 1,774.41 | 1,996.20 | 2,439.80 | 2,883.41 | 3,327.01 | 3,992.40 |
| Colebrooke | 1,344.35 | 1,568.40 | 1,792.46 | 2,016.51 | 2,464.62 | 2,912.74 | 3,360.86 | 4,033.02 |
| Copplestone | 1,329.56 | 1,551.15 | 1,772.74 | 1,994.33 | 2,437.51 | 2,880.71 | 3,323.89 | 3,988.66 |
| Crediton | 1,370.31 | 1,598.68 | 1,827.07 | 2,055.45 | 2,512.22 | 2,968.99 | 3,425.76 | 4,110.90 |
| Crediton Hamlets | 1,317.21 | 1,536.73 | 1,756.27 | 1,975.80 | 2,414.87 | 2,853.94 | 3,293.01 | 3,951.60 |
| Cruwys Morchard | 1,320.62 | 1,540.72 | 1,760.82 | 1,980.92 | 2,421.12 | 2,861.34 | 3,301.54 | 3,961.84 |
| Cullompton | 1,384.59 | 1,615.34 | 1,846.11 | 2,076.87 | 2,538.40 | 2,999.93 | 3,461.46 | 4,153.74 |
| Culmstock | 1,365.45 | 1,593.01 | 1,820.59 | 2,048.16 | 2,503.31 | 2,958.46 | 3,413.61 | 4,096.32 |
| Down St Mary | 1,322.27 | 1,542.65 | 1,763.03 | 1,983.40 | 2,424.15 | 2,864.92 | 3,305.67 | 3,966.80 |
| Eggesford | 1,305.46 | 1,523.03 | 1,740.61 | 1,958.18 | 2,393.33 | 2,828.49 | 3,263.64 | 3,916.36 |
| Halberton | 1,319.53 | 1,539.44 | 1,759.37 | 1,979.28 | 2,419.12 | 2,858.97 | 3,298.81 | 3,958.56 |
| Hemyock | 1,370.33 | 1,598.72 | 1,827.11 | 2,055.49 | 2,512.26 | 2,969.05 | 3,425.82 | 4,110.98 |
| Hittesleigh | 1,327.51 | 1,548.75 | 1,770.01 | 1,991.25 | 2,433.75 | 2,876.26 | 3,318.76 | 3,982.50 |
| Hockworthy (B Gate) | 1,319.75 | 1,539.71 | 1,759.67 | 1,979.62 | 2,419.53 | 2,859.46 | 3,299.37 | 3,959.24 |
| Holcombe Rogus | 1,339.81 | 1,563.11 | 1,786.41 | 2,009.71 | 2,456.31 | 2,902.92 | 3,349.52 | 4,019.42 |
| Huntsham (B Gate) | 1,321.57 | 1,541.82 | 1,762.09 | 1,982.34 | 2,422.86 | 2,863.39 | 3,303.91 | 3,964.68 |
| Kennerleigh | 1,307.12 | 1,524.97 | 1,742.82 | 1,960.67 | 2,396.37 | 2,832.09 | 3,267.79 | 3,921.34 |
| Kentisbeare | 1,369.59 | 1,597.85 | 1,826.12 | 2,054.38 | 2,510.91 | 2,967.45 | 3,423.97 | 4,108.76 |
| Lapford | 1,339.04 | 1,562.21 | 1,785.38 | 2,008.55 | 2,454.89 | 2,901.25 | 3,347.59 | 4,017.10 |
| Loxbeare | 1,305.46 | 1,523.03 | 1,740.61 | 1,958.18 | 2,393.33 | 2,828.49 | 3,263.64 | 3,916.36 |
| Morchard Bishop | 1,318.57 | 1,538.33 | 1,758.09 | 1,977.85 | 2,417.37 | 2,856.90 | 3,296.42 | 3,955.70 |
| Morebath | 1,332.68 | 1,554.79 | 1,776.90 | 1,999.01 | 2,443.23 | 2,887.47 | 3,331.69 | 3,998.02 |
| Newton St Cyres | 1,328.46 | 1,549.86 | 1,771.28 | 1,992.68 | 2,435.50 | 2,878.32 | 3,321.14 | 3,985.36 |
| Nymet Rowland | 1,316.23 | 1,535.60 | 1,754.97 | 1,974.34 | 2,413.08 | 2,851.83 | 3,290.57 | 3,948.68 |
| Oakford | 1,325.49 | 1,546.40 | 1,767.32 | 1,988.23 | 2,430.06 | 2,871.90 | 3,313.72 | 3,976.46 |
| Poughill | 1,335.13 | 1,557.64 | 1,780.17 | 2,002.68 | 2,447.72 | 2,892.77 | 3,337.81 | 4,005.36 |
| Puddington | 1,317.21 | 1,536.73 | 1,756.27 | 1,975.80 | 2,414.87 | 2,853.94 | 3,293.01 | 3,951.60 |
| Sampford Peverell | 1,327.61 | 1,548.87 | 1,770.14 | 1,991.40 | 2,433.93 | 2,876.47 | 3,319.01 | 3,982.80 |
| Sandford | 1,331.47 | 1,553.38 | 1,775.29 | 1,997.20 | 2,441.02 | 2,884.85 | 3,328.67 | 3,994.40 |
| Shobrooke | 1,323.47 | 1,544.05 | 1,764.63 | 1,985.20 | 2,426.35 | 2,867.52 | 3,308.67 | 3,970.40 |
| Silverton | 1,327.69 | 1,548.97 | 1,770.25 | 1,991.53 | 2,434.09 | 2,876.66 | 3,319.22 | 3,983.06 |
| Stockleigh English | 1,305.46 | 1,523.03 | 1,740.61 | 1,958.18 | 2,393.33 | 2,828.49 | 3,263.64 | 3,916.36 |
| Stockleigh Pomeroy | 1,305.46 | 1,523.03 | 1,740.61 | 1,958.18 | 2,393.33 | 2,828.49 | 3,263.64 | 3,916.36 |
| Stoodleigh | 1,323.18 | 1,543.70 | 1,764.24 | 1,984.76 | 2,425.82 | 2,866.88 | 3,307.94 | 3,969.52 |
| Templeton | 1,360.85 | 1,587.66 | 1,814.47 | 2,041.27 | 2,494.88 | 2,948.51 | 3,402.12 | 4,082.54 |
| Thelbridge | 1,315.24 | 1,534.44 | 1,753.65 | 1,972.85 | 2,411.26 | 2,849.68 | 3,288.09 | 3,945.70 |
| Thorverton | 1,331.85 | 1,553.81 | 1,775.79 | 1,997.76 | 2,441.71 | 2,885.66 | 3,329.61 | 3,995.52 |
| Tiverton | 1,346.59 | 1,571.01 | 1,795.45 | 2,019.87 | 2,468.73 | 2,917.60 | 3,366.46 | 4,039.74 |
| Uffculme | 1,365.67 | 1,593.28 | 1,820.89 | 2,048.50 | 2,503.72 | 2,958.95 | 3,414.17 | 4,097.00 |
| Uplowman | 1,318.71 | 1,538.48 | 1,758.27 | 1,978.05 | 2,417.62 | 2,857.19 | 3,296.76 | 3,956.10 |
| Upton Hellions | 1,305.46 | 1,523.03 | 1,740.61 | 1,958.18 | 2,393.33 | 2,828.49 | 3,263.64 | 3,916.36 |
| Washfield | 1,311.49 | 1,530.07 | 1,748.65 | 1,967.23 | 2,404.39 | 2,841.56 | 3,278.72 | 3,934.46 |
| Washford Pyne | 1,313.79 | 1,532.74 | 1,751.71 | 1,970.67 | 2,408.60 | 2,846.53 | 3,284.46 | 3,941.34 |
| Wembworthy | 1,328.80 | 1,550.26 | 1,771.73 | 1,993.19 | 2,436.12 | 2,879.06 | 3,321.99 | 3,986.38 |
| Willand | 1,338.10 | 1,561.11 | 1,784.13 | 2,007.14 | 2,453.17 | 2,899.21 | 3,345.24 | 4,014.28 |
| Woolfardisworthy | 1,310.10 | 1,528.44 | 1,746.80 | 1,965.14 | 2,401.84 | 2,838.54 | 3,275.24 | 3,930.28 |
| Zeal Monachorum | 1,327.93 | 1,549.25 | 1,770.57 | 1,991.89 | 2,434.53 | 2,877.18 | 3,319.82 | 3,983.78 |