Garden waste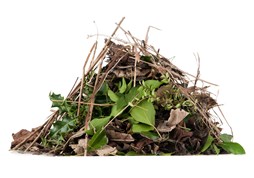 Opt-in service
As your local council, we have a duty to collect your recycling and rubbish, but not your garden waste. We have to keep costs as low as we can for council taxpayers, so we've started charging to collect garden waste, which is fairer as only those people who choose to benefit from the service pay for it.
You can choose either:
an annual subscription using brown bins, which we will empty once every two weeks. We will request payment up front for a 12-month period (terms and conditions apply, see Garden Waste Terms and Conditions); we'll then send you full details and a permit for your bin; or
"pay-as-you-go" using compostable sacks. You can buy individual sacks, use them as and when you have enough garden waste and put them out on the kerbside for collection on the correct day, see Where to buy compostable sacks
What can I put out for collection?
Yes please:

No thanks:

Grass cuttings
Hedge cuttings
Plants , shrubs and weeds
Cut flowers
Leaves
Twigs and small branches (less than 10cm/4" diameter)

Food waste
Cardboard
Pet waste and faeces
Bricks, soil and rubble
Large branches
Plastic bags and plant pots
Black sack waste or recycling
Charges
Container type:
Service includes:
Cost
240ltr brown bin

Yearly subscription
Emptied every other week
Standard-size bin

£65 per year
140ltr brown bin

Yearly subscription
Emptied every other week
"Slimline" bin

£55 per year
 compostable sacks

No yearly subscription
Buy and use only what you need

£1.60 per sack, 

see 

Where to buy compostable sacks
How to subscribe if you're a new customer
If you've not previously subscribed to our garden waste service, please use our online form - New customer brown bin subscription.
How to renew if you're an existing customer
If you've already subscribed and your brown bin permit is nearing expiry, please see Garden waste permit renewal for information on how to renew.
Frequently asked questions: