Cullompton Town Centre Masterplan
What is the Town Centre Masterplan consultation about?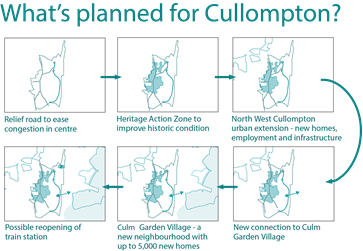 The Cullompton Town Centre Masterplan, once adopted by the District Council, will form the basis for the regeneration of the town; enhancing the town's economic prospects and providing a clear strategy to ensure the town meets its full potential as an attractive and thriving town post COVID-19 and into the future. The Draft Masterplan has been prepared by consultants in the context of the major projects planned in and around Cullompton. These include:
North West Cullompton Urban Extension;
The new homes allocated to the east of the town;
The proposed Culm Garden Village;
The High Street Heritage Action Zone which will see investment into Cullompton's historic high street; and
The potential reopening of Cullompton railway station.
A Stage 1 consultation event was held between February and April of last year. The comments raised at this first stage have been given full consideration by the District Council and a Draft Cullompton Town Centre Masterplan is now available for you to comment on. This is the final stage of public consultation ahead of the District Council being able to formally adopt the masterplan.
---
The Council sought the community's views on the draft Town Centre Masterplan in a consultation which took place between 28th June and 13th August 2021.
In total there were 88 responses to the survey, and between 40-50 responses posted on the interactive map on each of the eight opportunity sites identified.
You can view the responses on the interactive maps (closed to new responses) online.
What happens next?
The Council is now considering the consultation responses and it is intended that the finalised Masterplan will be adopted in the New Year 2022 and published on the Council's website; followed by a Press Release.