Public Consultation - Cullompton Town Centre Masterplan
What is the Town Centre Masterplan consultation about?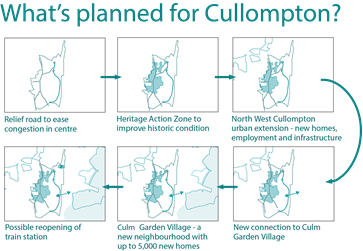 The Cullompton Town Centre Masterplan, once adopted by the District Council, will form the basis for the regeneration of the town; enhancing the town's economic prospects and providing a clear strategy to ensure the town meets its full potential as an attractive and thriving town post COVID-19 and into the future. The Draft Masterplan has been prepared by consultants in the context of the major projects planned in and around Cullompton. These include:
North West Cullompton Urban Extension;
The new homes allocated to the east of the town;
The proposed Culm Garden Village;
The High Street Heritage Action Zone which will see investment into Cullompton's historic high street; and
The potential reopening of Cullompton railway station.
A Stage 1 consultation event was held between February and April of last year. The comments raised at this first stage have been given full consideration by the District Council and a Draft Cullompton Town Centre Masterplan is now available for you to comment on. This is the final stage of public consultation ahead of the District Council being able to formally adopt the masterplan.
When will the consultation take place?
A public consultation will be held between 28 June and 13 August 2021.
Can I talk to an officer from the Council?
Our Area Planning Officer, Christie McCombe, will be available via email at  cmccombe@middevon.gov.uk or via telephone on 07976 299 247 to answer your questions about the Cullompton Town Masterplan.
How can I view the consultation material?
Consultation material links below:
How can I comment on the proposals?
Comments can be submitted via our online survey.
Comments can be added directly on to our interactive map.
Paper copies of a Question Summary Sheet (to assist those wishing to comment) will be available from the Hayridge Centre from 28 June to 13 August 2021 during normal working hours.
Written responses may be delivered to:
Cullompton Town Centre Masterplan Public Consultation
The Hayridge Centre
1 Exeter Hill
Cullompton
EX15 1DJ
Or delivered / posted to:
Cullompton Public Consultation
Forward Planning
Mid Devon District Council
Phoenix House
Tiverton
EX16 6PP
Or emailed to:
Note: When submitting a comment please include your post code, otherwise your comments cannot be registered.