Public Consultation - Cullompton Town Centre Masterplan
What is the Town Centre Masterplan and Delivery Plan consultation about?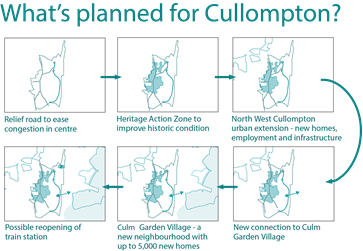 We're seeking views from the public on a masterplan that we've commissioned for Cullompton Town Centre. The plan will form the basis for the regeneration of the town; to enhance its economic prospects and provide a clear strategy to ensure it meets its full potential as an attractive and thriving town.
The masterplan is being produced in the full knowledge of the major projects planned in and around Cullompton, including:
North west Cullompton urban extension
New homes allocated to the east of the town
The proposed Culm Garden Village with up to 5,000 new homes, new jobs, schools and local centre
A Heritage Action Zone which will see investment into Cullompton's historic high street, and
Potential for the reopening of Cullompton railway station
Before a Masterplan can be adopted, two stages of public consultation are required. The first consultation stage considers the scope of the Masterplan and any key issues. The second consultation stage considers the draft masterplan following receipt of comments from stage one. This consultation event is the first consultation stage.
When will the consultation take place?
A public consultation will be held between 25 February and 15 April 2020 to allow you to comment.
Can I talk to an officer from the Council?
Our Area Planning Officer, Christie McCombe, will be available via email at  cmccombe@middevon.gov.uk to answer your questions about the Cullompton Town Masterplan and Delivery Plan.
How can I view the consultation material?
To view the consultation material, click the document links below:
How can I comment on the proposals?
Comments can be submitted via our online survey.
Paper copies of a Question Summary Sheet (to assist those wishing to comment) will be available from the Town Hall and Hayridge Centre from 25 February 2020 during normal working hours.
Written responses may be delivered to:
Cullompton Town Centre Masterplan and Delivery Plan Public Consultation
The Hayridge Centre
1 Exeter Hill
Cullompton
EX15 1DJ
Or delivered / posted to:
Cullompton Town Centre Masterplan and Delivery Plan Public Consultation
Growth Economy and Delivery
Mid Devon District Council
Phoenix House
Tiverton
EX16 6PP
Or emailed to:
Note: When submitting a comment please include your post code, otherwise your comments cannot be registered.